No. 2 sophomore R.J. Barrett talks recruiting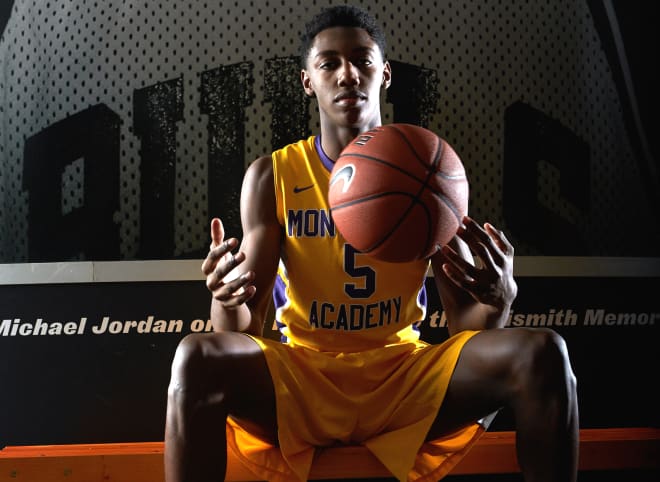 The No. 2 ranked player in the class of 2019, wing R.J. Barrett is driven to succeed and doesn't even need to leave his own living room to find motivation.

A native of Canada who stars at Montverde (Fla.) Academy, one of Barrett's main sources of motivation is his father Rowan Barrett. A star at St. John's, a longtime pro and an Olympian who is now the Executive Vice President of Canada's national team, the elder Barrett has set a high bar.
"He's always pushing me," Barrett told Rivals.com. "Whenever I do something he lets me know that it's not enough and that there's always something ahead for me to focus on."
Right now, the high flying 6-foot-6 wing is focused on his sophomore season and emerging as a leader.

"We have three of us who returned so we all kind of try to be the leaders," said Barrett. "We are definitely more free to play our game this year and everybody moves the ball so it's a lot easier to show what you can do.
"I've been working on my shooting a lot since I've gotten back to school. Really I feel like I can always get better at everything so there's no one place I'm focused on."
Baylor, Oregon, USC, UCLA and Missouri have offered Barrett while other heavy hitters like Duke, Kentucky, Kansas and North Carolina have also been in contact. For now, Barrett says he's not even sure who has shown the most interest.

"I don't really know who has offered," said Barrett. "They all talk to my dad right now. It will probably be next year when I start to get more serious about it. I will look for a school that me and my parents think is a fit for me in both basketball and academics."
At Montverde, coach Kevin Boyle pushes Barret on a daily basis and he says that he would like that same approach in college.

"He's a good coach and it's great to have somebody on you all the time,' said Barrett. "He's trying to see that I improve and I wouldn't mind that in college too. It's good."
With a decision still likely a couple of years away, Barrett is good with focusing on his game and pushing himself. After all, he doesn't need rankings or college attention to push him when he's got a family member's success to drive him.

"I just look at my family and that drives me," said Barrett. "I look up to my dad a lot and he's been real successful at a high level so I'm just trying to reach that and maybe pass him."