No. 1 Michael Porter makes college debut in Missouri/Kansas scrimmage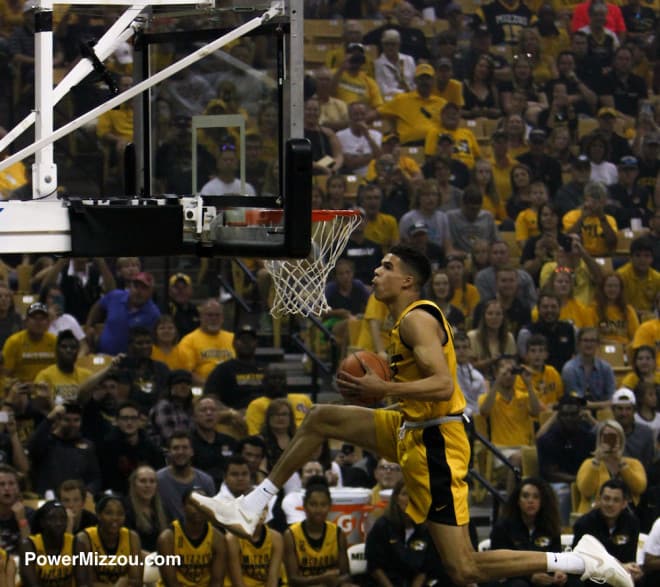 KANSAS CITY, Mo. -- It took a benefit scrimmage for hurricane relief to get Kansas and Missouri to temporarily put aside their differences and renew their rivalry in front of a sold out Sprint Center crowd on Sunday.
Kansas overcame a 44-40 halftime deficit to win 93-87. The game featured many things including the highly anticipated Missouri debut of 2017's No. 1 player Michael Porter Jr.
National Basketball Analyst Eric Bossi was on hand and had some takeaways.

1. PORTER IS GOING TO HAVE A MONSTER YEAR
Early on it looked like Michael Porter Jr. was going to have a debut for the ages as he scored 15 points and grabbed four rebounds by halftime. In the second half he got a bit rattled by Kansas in front of the sold out crowd and settled for too many jump shots before finishing with 21 points, eight rebounds and a pair of assists despite making just 6-20 (2-9 from three) field goal attempts.
Throw aside the rough shooting and jitters and Porter Jr. looked as good as his advanced billing. He got to the spots he wanted to, was often the tallest player on the floor and he's clearly benefited from a few months in a college weight room.
There's a lot of pressure on Porter to help turn around the Missouri program and if an October scrimmage can give much of an indication, the Tigers are on track.
Put it this way, even though he didn't have his best game there wasn't any of me that thought for a second that I may have made a mistake in ranking Porter Jr. No. 1 overall in the 2017 class.

2. GRAHAM LOOKS LIKE A LEGIT NATIONAL PLAYER OF THE YEAR CONTENDER
One of the biggest problems facing Kansas this season is how do they replace their departed All-American and point guard Frank Mason. All off-season the expectation has been that Devonte Graham would slide over to the point as a senior and pick up where Mason left off.

After 25 points, 10 rebounds and five assists in the scrimmage I think the pre-season All-American looks more than up to the task.
Graham is a skilled shot creator, has size that Mason didn't and looks to have improved his quickness over the season. Throwing around potential player of the year and All-American talk for a guy who has never been the man can create a difficult situation for a player to live up to expectations but Graham looks primed to put together a huge senior season.

3. TILMON SURPRISES WITH HIS MOTOR
Throughout the summer and early fall I read and heard from the Missouri staff how hard freshman Jeremiah Tilmon had been working. Frankly, I was pretty skeptical. Tilmon always showed plenty of potential as a high school player but he lacked a motor and didn't really seem to improve much.
As soon as I saw him take the court I was impressed by what he has done to get in shape. He was leaned up and looked more explosive and quick in pre game activities. Then the game started and I was impressed by his activity, toughness and explosiveness while racking up 10 points and four rebounds in just 13 minutes of action.
Tilmon will have to learn to avoid silly fouls -- even with seven fouls allowed per player he fouled out -- but he could emerge as a major piece for the Tigers. Looking forward, a strong season and continued inspired play from Tilmon could be big when it comes time for Cuonzo Martin to sell player development to future big man targets.

4. KANSAS FRESHMEN IMPRESS
One of the three five-star freshmen in the scrimmage along with Michael Porter Jr. and his brother Jontay Porter, Kansas' forward Billy Preston impressed in his debut. So did his teammate Marcus Garrett.
In 15 minutes off the bench Preston was good for 12 points, four rebounds and an assist. Physically, he already looks like an NBA player and I was glad to see him playing around the rim and attacking rather than roaming the perimeter and hunting jumpers. Bill Self sounded quite pleased with Preston in the post game and I'm sure Kansas fans enjoyed their first real look at him.
Four points, four rebounds and a pair of assists in 20 minutes isn't a crazy stat line by any means, but I really liked what I saw out of Garrett. A versatile guard who can switch one through four on defense, he's a steady player and it looked like he's already earned Bill Self's trust.

5. SOME FINAL THOUGHTS
I wasn't sure what to expect walking into the Sprint Center, but Kansas and Missouri really put on a show. Their fanbases showed up strong, they raised a ton of money for charity (1.75 million off of ticket sales alone) and for an October scrimmage, it was highly competitive and very entertaining.
For the past few years, Missouri has been one of the worst major conference teams we've seen in a while. Their fans have been hopeful that the combination of Cuonzo Martin and Michael Porter Jr. would help lead to a quick turnaround and it looks to be the case. Tilmon is looking like a pleasant surprise, Porter's brother struggled shooting as well but seemed to be in the right places at the right time (12 rebounds) and in grad transfer Kassius Robertson they look to have a good shooter. I'm expecting they'll be one of the most improved teams in the country.
Finally, Kansas looks to be Kansas. Figuring out how to rebound and keep opponents off the offensive glass is going to be very important given their thin rotation of big men, but at least sophomore Udoka Azubuike looks full strength after missing most of his freshman year with injury. When Kansas was able to swing the ball and feed him for easy buckets things got a lot easier on the perimeter for them.