Nike Memorial Day Classic: Day One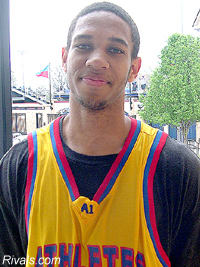 The 6-foot-6, 210-pound Henry did what he does best against Team Florida, which is score at all three levels. Proficient in the mid-range, Henry also has the explosiveness to attack the rim. After struggling early in the game with his deep jumper, Henry found the range right before the half and dropped some jaws with his patented hop back three.
The Alabama Challenge fell behind early to the New York Gauchos, but stormed back mid-way through the second quarter and dominated the rest of the way for a near 20 point win.
Bledsoe anchored the Challenge's attack with a combination of strong ball handling and timely scoring. He had nine points, but his constant penetration kept the Gauchos on their heels.
A tremendous 2010 talent, Tyler will develop all the physical tools to be an elite player. The question, however, is how much he will mature emotionally on the court. Right now, his constant emotional out bursts, prevent him from focusing his vast abilities on consistently making winning plays.
At the top of the press, Coombs harassed the Pulley ball handlers throughout the game. He was also active on the boards, scored on drives to the basket and ended the game with a smooth looking three-pointer.
With the Portland Legends 16-under team unable to make the trip to Nashville, the YOMCA Tennessee Tigers easily defeated a fill in local squad.
We caught the first half of the Georgia Stars against the Metro Hawks as well as the Birmingham Storm against the Illinois Warriors.
The threesome of point guard Quinn Bivins and forwards Terrell Barnes and Kammeron Holsey are good looking prospects for the Stars. Bivins showed quickness with the ball and the ability to knock down a jumper. Barnes, although not that athletic but a strong 6-foot-5, used his muscle and craftiness to score in the mid-range. However, it was Holsey who impressed the most with his ability to chase down rebounds and handle the ball at 6-foot-7.