Nike MDC: Barton on top of his game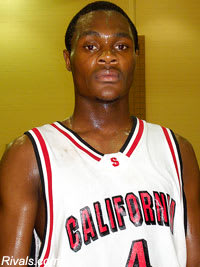 Barton got the game going in style with a dunk, and from there it was simply his show. He scored with ease going to the rim, finished athletically with impressive dunks, made perimeter jump shots, and simply did anything that he wanted to do on the court. In the first half alone Barton had 19 points, and only missed two field goals in the process.
While Barton was on fire, Barnes struggled. His outside shot which was so pure in the morning game, took a while to get going against Baltimore Elite. He missed his first three field goal attempts of the game, and even uncharacteristically missed three free throws early on. Barnes did begin to right the ship at the end of the first half and showed why he is a premier prospect, but it was all about Barton.
In the second half Barton cooled down a little bit, but still he was scoring nearly at will. Due to some nice passes from Selby, Barton was able to convert easy buckets, and that got Baltimore Elite going. Add in Selby making shots that simply couldn't be defended, and the rout was on.
Barnes closed out strong, and did everything he could to keep Howard Pulley in the game, but Barton and company were simply too much. Barton topped the 30 point mark for the game, and in the process cemented his status as one of the best players in the country.
Sometimes prospects in the west can be tough to get a great look at because of their limited participation at events in the Eastern Time zone, but that definitely isn't the case this weekend in Suwanee.
With a great ability to get into the lane off the dribble and either create for teammates or make a shot, Franklin proved to be next to impossible to stop for the Georgia Blazers. Franklin started off by showing what he can do of the bounce, when he would beat his man of the dribble with his quick first step, and from there he launched from three.
Because his shot was on, the Blazers simply had no answer for him on the offensive end, and because of his tenacious defense, Franklin also made things difficult on the Blazers when they had the ball. Overall it was clearly one of the best point guard displays seen this spring.
Franklin is a deceptive athlete who is more than capable of finishing well above the rim, has skills shooting the ball from the mid-range, and also can put the ball on the floor and beat less mobile big men off the dribble. Before fouling out, the skilled power forward was a big time matchup problem, and showed the form of someone who could really rise in the rankings with other strong performances.
Do a lot is exactly what he did. Bejarano made all of his teammates better by breaking down the defense and creating easy buckets for others. Also he played excellent defense on Knight or Rivers, depending on whom he was guarding. As always Bejarano scored, but he didn't have that dominant performance lighting up the scoreboard like he is capable. While Bejarno was good, and did what he could, his Arizona Stars team still fell to defeat.
So far this summer Knight is playing with both Each 1 Teach 1, and Southeast Elite. It is obvious that at this point Knight and Rivers still don't have their chemistry in the backcourt. Neither player has a great feel for how to play with the other, but still they each find a way to put up good numbers. If they can do a better job of working together in the backcourt it could be a truly scary proposition for opponents.
After missing the first game, Pressey arrived in time to play in Team Texas' evening contest. As always Pressey showed the high level passing and basketball IQ, but also he shot the ball fairly well, outside of his dunks. Pressey missed a several dunk attempts, but in the process the 5-foot-10 guard showed more explosion than ever. Maybe even more impressive than his improved athleticism was his ability to play defense. Pressey takes pride in harassing opposing guards, and had several steals converted into easy buckets.
Derrick Wilson noted that Georgia Tech and Stanford are the main two schools recruiting him, but also listed North Carolina and Syracuse.
Phil Pressey says he is hearing from the entire Big XII, Arizona, UCLA, Florida, UConn, and Ohio State
Cameron Clark rattled of an impressive list of Texas, Oklahoma, UCLA, Kansas, Arizona, Arizona State, Memphis, and Kentucky.
Roy Marble has an offer from Buffalo, and interest from Michigan, Dayton, Oregon, Indiana, Western Michigan, Iowa, and Providence.
Jordan Latham is getting significant attention from Xavier, Marquette, and Virginia Tech.
[rl]