Nike Hoop Summit Roster Announced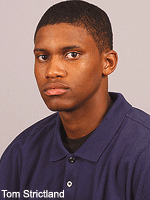 USA Basketball released their roster on Tuesday for the 2004 Nike Hoop Summit in San Antonio, Texas on April 4th. The ten players selected will represent the United States as they battle it out against the world's top 19-year-old players. RivalsHoops will be there front and center to watch the top players on the planet.
2004 USA Basketball Men's Junior National Select team consists of:
The game will be played at the University of Texas-San Antonio's Convocation Center on April 5th, the day between the Final Four and National Championship game. Tip off is slated for 1 p.m. CST.
With the game of basketball taking on an international flare, this summit gives basketball fans, coaches and scouts an opportunity to see the top young players in the United States as well as the top players across the globe.
20 international players were selected in the 2003 NBA Draft. This year's draft may have just as many foreign players. Some could be featured in the Hoop Summit. The roster for the World team has not been released yet. It is possible that half of the players named to the USA Men's Junior National Select team may forgo their college careers for the pro game as well.
The 2004 game ends a four-year hiatus for the Hoop Summit. In 2000, the boys in red, white and blue treated fans in Indianapolis to a thrilling 98-97 victory. Current Portland Trailblazer Zach Randolph led the way with 24 points and 11 rebounds.
Stay tuned to RivalsHoops for coverage from the event.