NIKE Hoop Jamboree: Vol. 2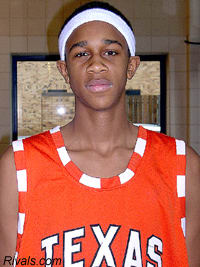 The NIKE Hoop Jamboree might have been a little low in star power, but the field of talent was deep, especially in the 2009 class. In this second recap from the event, Rivals.com takes a look at the second tier of 2009 performers, all of whom, like
John Henson
are promising high major prospects.
At a very thin 6-foot-8, Henson is an intriguing combo forward prospect. His weight would be more of an issue if he were primarily an interior player, but Henson prefers to face the basket. He is developing a reliable three-pointer, and although his ball handling has room for improvement, he does have the ability to slash to the rim. Defensively, his length causes problems. Look for Henson's stock to continue to rise.
Abdul Gaddy
- This point guard from Tacoma, Wash., isn't a national name yet, but he is one of the better lead guards in his class. Along with his exceptional feel for the game, Gaddy is a sharp shooting three-point shooter. Along with his offensive abilities, Gaddy is a strong defender. He keeps his man in front of him with his exceptional lateral quickness and then uses his wingspan to disturb shots.
Elijah Johnson
- Another top notch guard in the 2009 class is the ultra-athletic Johnson. All spring Johnson has worked his way to the rim practically at will and that was still the case in St. Louis. What Johnson did better in St. Louis was consistently finish at the rim. A raw talent, Johnson just needs to continue to refine his skills, such as his midrange passing and three-point shooting, and he has a chance to become a five-star prospect.
Naji Hibbert
- A crafty player with solid athleticism, Hibbert was one of the better shooting guards at the camp. He stroked the three ball but also showed a penchant for making the tough short to midrange shots as well. With a constantly running motor, Hibbert also picked up points off his rebounding and overall hustle.
Avery Bradley
- The high school teammate of Gaddy, is simply a natural scorer. His reserved athleticism allows him to finish seemingly impossible shot, and his wing span on defense creates easy shots for himself. As his body develops, he game will only get better.
Tevin Baskin
- With his constant energy and productive play, Baskins was an early eye catcher at the camp. A 6-foot-5 wing player, Baskins did a little bit of everything from hitting threes to attacking the rim to chasing down rebounds and blocking shots. At times being his worst enemy by playing out of control, Baskins can be a tough player when his energy is bridled.
Cory Jefferson
- He is another athletic and thin power forward whose forte is blocking shots and cleaning up the glass, but Jefferson also can step out and knock down the 17-21 foot jumper. His offensive game needs refining, but he is also going to be a back to the basket scorer eventually.
Ferrakohn Hall
- Playing a more aggressive brand of basketball, Hall showed some legitimate small forward skills in St. Louis. He handled the basketball well, knocked down some jumpers and moved his feet well on defense. Yet, Hall also battled on the boards and played with an improved physical edge.
Darius Morris
- This up and coming point guard continued his springtime rise at the camp. A strong ball handler with a good feel for the game, Morris can also knock down the long ball. Most importantly, though, at this camp he played a more physical brand of ball, especially when driving to the basket.
Chris Colvin
- A physical lead guard at 6-foot-2, 174-pounds, Colvin consistently broke down defenders during the camp. Once in the lane, his decision making was strong as he mixed in strong finishes with sharp set up passes. He also showed the ability to be a top defender.
Lamar Patterson
- A big bodied shooting guard, Patterson mixed in three-point shots with mid-range pull ups on some crafty moves to create space. Patterson also passed the ball quite well off the dribble. His 6-foot-4, 219-pound frame also served him well around the basket.
A breakdown of the top 2010 and 2011 prospects at the NIKE Hoop Jamboree is coming next.