Nike Hoop Jamboree: 2011 prospects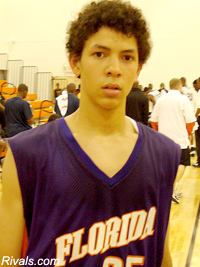 ST. LOUIS
- There were a number of talented 2011 prospects at the Nike Hoop Jamboree, and none were more impressive than combo guard
Austin Rivers
.
Guards
Austin Rivers
- Looks to be the complete package as a combo guard. Rivers handles with savvy, scores multiple ways and has the length and athleticism to defend and rebound his position. The son of Celtics coach Doc Rivers simply has a whole lot of game and has the potential to be a dominant player as he gets physically stronger.
Nick Johnson
- Maybe not quite the point guard that Rivers is, Johnson shares the same qualities as Rivers. A strong two foot jumper, Johnson is a serious scoring threat in the midrange area with his advanced repertoire of shots.
Derrick Wilson
- Built like a running back, Wilson has a highly skilled game to go along with his explosive strength. A force around the rim as a scorer and rebounder, Wilson can also score the ball effectively from the outside and has the basketball IQ to run a team.
Jamal Branch
- A smooth athlete with a dose of athleticism, Branch is oozing with upside. He scores the ball well off the dribble, shows instincts on the defensive side of the ball and will only get better as he gets stronger.
Cezar Guerrero
- A tremendous ball handler, Guerrero is a natural scorer who makes the difficult shot look easy. At the same time his ability to make the tough shot can work against him as he has a tendency to force the issue as a scorer to the detriment of team play. Nonetheless, you can't ignore the talent that he possesses.
Wayne Blackshear
- The long and lanky guard really looked good shooting the ball from outside. Going to the basket, he didn't always have the same success, however, because of a lack of strength. But if he tightens up his handle and improves his strength, Blackshear will have quite a complete game as a shooting guard.
Wings
Aaron Ross
- What a solid combo forward. Ross simply knows how to play and has the physical skills to make a variety of plays. Shoots with good range, is a sure handed rebounder, scores through contact and is poised with the basketball.
Mike Shaw
- Developing into a physically dominant forward, Shaw also has an impressive floor game. He handles the ball well and has a great feel for passing the ball. He also should develop into a reliable scorer. As a defender and rebounder, Shaw has the physical tools and mentality to excel.
Mychal Ammons
- With his 6-foot-9 wingspan and athleticism, Ammons plays much bigger than his 6-foot-4 height. Yet, what is best about his game is its complete nature. He is a smart player who can knock down shots, come up with rebounds, take care of the ball and defend a couple positions.
Mike Gilchrist
- Long and lanky, Gilchrist is an aggressive slasher who can make plays off the dribble. He does have a tendency to force things at this stage, but as his game matures, he should become a big time playmaker on both ends of the court.
Ramon Eaton
- His skinny frame at 6-foot-7, 171-pounds is cause for concern, but Eaton has quite a skillful game. Crafty off the dribble, he can work his way consistently into scoring positions and has a knack for coming up with the ball.
Posts
Johnny O'Bryant
- This aggressive big man played with as impressive a motor as any player in the camp. Along with running the floor extremely well, O'Bryant was simply a beast on the boards. At times he made things a little to complicated with his offense, but over time he will begin to consistently finish his scoring moves.
Hunter Mickelson
- With an 8-foot-9 reach at 6-foot-8, this lanky forward brings back visions of Kevin McHale with his skilled and aggressive play. Quite a few jaws dropped in the stands when he swept across the lane and sank a running hook shot. Also a battler on the boards despite only weighing 176-pounds, Mickleson has a very bright future as a prospect.
Kevin Johnson
- An impressive physical specimen for any age, Johnson measured out at 6-foot-9, 221-pounds with a 7-foot-1 wingspan and a n 8-foot-11 reach. He moves extremely well and possesses a solid skill set as well.