Nike EYBL Friday: RJ Barrett makes his spring appearance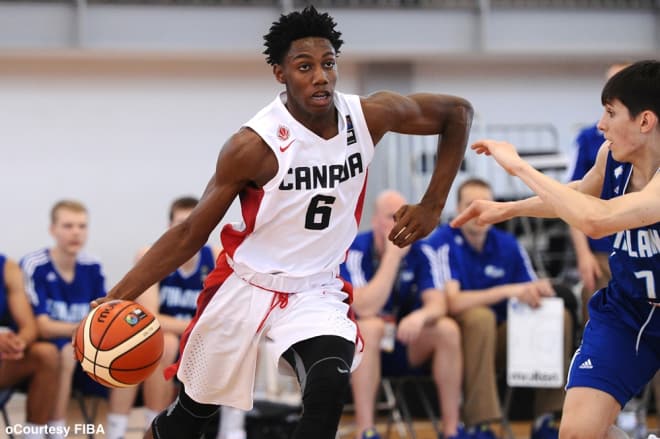 INDIANAPOLIS – The first day of the second spring live evaluation period kicked off on Saturday. Some of the top Nike teams hit the floor but it was R.J. Barrett's appearance that brought an onslaught of college coaches and onlookers. The Canadian was just a few of those that stood out from day one in the Midwest.
After missing the first session of the Nike EYBL last week in Hampton, R.J. Barrett struggled early in Indianapolis but his play down the stretch that catapulted his team to its first W in Indy.
A lefty with a body that is getting stronger by the day, there has been talk that Barrett might reclassify into the 2018 class. On Friday, Barrett remained uncommitted on the subject.
"Right now, I don't really know. I am still just a 2019. I will decide in August," Barrett said. "We will see how I finish out this year and how I do with Canadian basketball."
Kentucky, along with pack of other top flight programs watched, Barrett on Friday. He gave his initial thoughts on the SEC blueblood.
"Kentucky, I don't really know much more than what I see on TV," he said. "Malik Monk, I watched go off this year and with Jamal Murray, he just said he loved it and it helped his game."
Remaining in the 2019 class is still the plan, at least until August, but Barrett remains the cream of the crop. Despite a mediocre first half, the five-star sophomore still finished with an impressive stat line of 26 points and 10 rebounds. Sean Miller, Shaka Smart, John Beilein and assistants from Kentucky and Duke were those keeping an eye on him to kick off the night.
Recruitment: UConn, Notre Dame, Texas, UCLA, Michigan, Kentucky, Duke, Vanderbilt, Oregon and a slew of others.
His day: Simi Shittu didn't start things off on a strong note but it was his play down the stretch session that made one realize why he is coveted as a five-star prospect. A fine athlete at the basket who wins the majority of the 50-50 plays that he is involved with, Shittu made all seven his field goal tries as he chipped in with 18 points and 11 rebounds in his team's win.
Quote: "No, I am staying 2018 for sure. I think I need one more year of development to get ready for college.
"I will probably make a list after the summer, sometime in August or September."
Prediction: The recruitment of Shittu is still in the early stages, despite entering his final year of travel ball. If Kentucky or Duke were to offer, the bluebloods might be tough to defeat while others like Michigan, Notre Dame, UCLA and Oregon jostle for position.
Recruitment: Vanderbilt, Washington, Oklahoma, Florida, Vanderbilt, Michigan, Pitt and more by the day
His day: There is nothing sexy about Ignas Brazdeikis as a prospect. The 6-foot-7 Canadian is in between positions and is just an okay athlete. What he really does is fill in every portion of the box score, just as he did Friday evening chipping in with 17 points and eight rebounds.
Quote: "My list is continually open right now; I am not thinking about cutting it down anytime soon. I just want a place that I can play right away and make an impact early."
Prediction: Currently a member of the 2018 class, expect for some of the top programs to prioritize Brazdeikis in the coming weeks and for the Canadian to reclassify into the 2017 class; Vanderbilt has done the greatest amount of work to date, which could bode well for Bryce Drew's program at the end of the day.
Recruitment: TCU, Texas A&M, Notre Dame, Wichita State and Baylor
His day: Taking his RM5 Elite squad into battle against in-state foe, the Houston Hoops, Reggie Chaney was the catalyst down the stretch in his team pulling out the W. Nipping rebounds off the glass and finishing out in the open floor, the RM5 big man pitched in with 17 points, eight boards and three assists, helping his stock in the meantime.
Quote: "I haven't visited any schools yet but I am thinking about visiting Baylor this summer.
"I like their zone and the way that they play; I like their style of play."
Prediction: Programs are beginning to get involved by the day but look for some of the Texas schools such as Texas A&M and Baylor to prioritize this summer.
Recruitment: Wake Forest, VCU, St. Louis, Georgia, Iona, Santa Clara, Miami and others
His day: His team went down in defeat but it wasn't because of his Jalen Lecque's play. The 6-foot-3 scoring guard threw down two of the more impressive dunks that you're going to see all spring long as he continues to establish himself as the breakout performer of the travel season thus far; he finished with 24 points and six rebounds.
Quote: "The biggest offer that I got was probably Wake Forest.
"It is the ACC. I went from low-major to now that; it is just showing what I am as a player."
Prediction: The process has officially kicked off for Lecque who, two weeks ago, held offers from Santa Clara and Iona; now, Wake Forest and St. John's are just the first of many to get involved from the high-major ranks to get involved. A member of the 2019 class now, this recruitment is anyone's guess and will remain the case for the foreseeable future.