Newton, Travis aid team in title run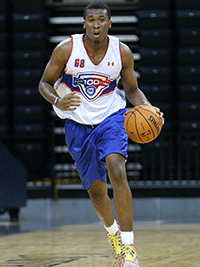 Click
Here
to view this video.
CHARLOTTESVILLE, Va. --
The 2013 NBPA Top 100 Camp came to an exciting conclusion on Saturday evening. After playing games in a round-robin style on the first two days, the teams battled through playoff rounds and
Ja'Quan Newton
and
Reid Travis
stole the show while leading their Celtics squad to a camp championship.
Newton and Travis come to life
Throughout the first two days, Newton, a point guard, and Travis, a power forward, had been enjoying fine camps.
But the story on their Celtics team had been the play of 2015 big man
Cheick Diallo
. The praise for Diallo -- who was selected by campers as the MVP -- was well deserved, and he had another good day on Saturday. However, it was Newton and Travis who stepped up during the playoffs.
During the semifinal round, it was Travis who came forward in a big way. A rugged 6-foot-7 power forward from Minnesota, he authored what may have been the top single-game interior performance of the weekend. He played grown-man basketball while racking up 26 points and 11 rebounds. Travis was tough around the rim, he stepped out to hit midrange jumpers, and he played hard on the defensive end.
In the championship, he got the Celtics off to a hot start and finished with 12 points and four rebounds. Mark him down as one of 2014's top rebounders.
A 6-foot-3 point guard who can get to the rim, Newton was very good in the semifinals as he put together a great line of 16 points, five assists and four rebounds. However, the No. 60 player in the class of 2014 played above that level and gave some higher-ranked players absolute fits while delivering the camp's definitive performance in his 31-point, seven-assist and four-rebound effort in the championship game.
Newton was basically unguardable off the dribble and spent Saturday getting into the lane and finishing at will. While he's relatively lean, he takes contact really well and he can hang and finish at awkward angles. He also hit jumpers and was brimming with confidence as he made play after play.
What really stands out about Newton is that he can create off the dribble and regularly get into the lane without the benefit of a ball screen. Pick-and-roll basketball is a huge part of the game these days, and he is certainly capable of using ball screens. But, when things break down, there aren't many players in the class of 2014 who can freelance in open space and beat a defender off of the bounce to make a play better than Newton.
Johnson completes big camp
While playing in Nike's EYBL with traditional summer power Boo Williams,
Robert Johnson
put himself on the national map as a scorer. After starting the first few sessions of the EYBL hot, though, he cooled significantly.
In Charlottesville, Johnson definitely heated back up. He knocked home jumpers, but he didn't settle for deep 3-pointers. The 6-foot-3 combo guard attacked off the dribble and showed a lot of burst getting to the rim. More scorer than setup guy when he runs the point, Johnson is being recruited to play the one and the two and he's trying to be more of a point.
"I think I can play either the one or the two," Johnson told Rivals.com. "I think I need to be more of a point down the road because of my size."






Click
Here
to view this Link.
[rl]