Recruiting Rumor Mill: First 2023 live period in the books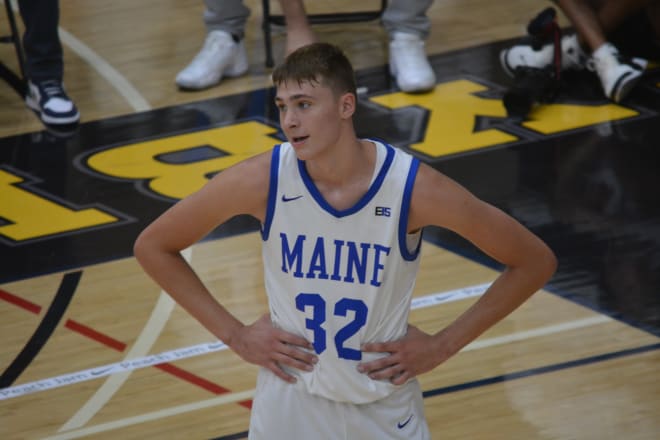 A TRIO OF FUTURECASTS FROM THE ROAD 
COOPER FLAGG TO DUKE: Flagg has long been high on Duke. That's not exactly a groundbreaking realization. The class of 2025 prospect called it a "dream school" when he received a scholarship offer from the Blue Devils last year, and things have been cozy between the two parties since.
Things seem to be getting serious now, however, as last weekend saw few college coaches not named Jon Scheyer courtside for Flagg's games, suggesting other coaches have thrown in the towel. Reclassification rumors also filled the gym in Phoenix, making it seem at least possible that Flagg becomes not only a Duke commit but a member of the class of 2024 before Summer gives way to fall.
Obviously, nothing in the recruiting world is a sure thing, but at this point it's becoming increasingly difficult to imagine the dynamic Flagg landing anywhere other than Durham. There could be a twist left in the star's recruitment, sure, but Duke fans should feel exceedingly confident as things stand.
*****
TRENT PERRY TO UCLA: Bruins head coach Mick Cronin and top assistant Darren Savino were both in the stands for Perry's first game in Phoenix on Friday night, and things seem to be progressing quickly between the Bruins and the four-star point guard.
UCLA has long been seen as the leader here, and for good reason. Perry also managed to throw a bit more gas on that fire with a postgame slip of the tongue when discussing his close relationship with the Bruins staff.
"Coach (Mick) Cronin is a straight-up guy," Perry said on Friday. "He doesn't make any promises, but he says that once I step on campus … I mean, if I step on campus … then I'll have the opportunity to earn my spot."
*****
GICARRI HARRIS TO PURDUE: There's still some runway left when it comes to the recruitment of the Georgia-based guard. Harris said he doesn't plan to make a decision until September, and schools such as Georgia and Stanford are very much involved. Still, it's starting to seem like beating out Purdue is going to take a Herculean effort.
Harris, the son of Purdue legend Glenn Robinson, has already been on campus in West Lafayette and seems to feel most comfortable with the Boilermakers staff. He's also already visited Stanford and attended a handful of UGA football games, but he doesn't seem as closely bonded to either of those schools. He may not commit in the near future, but Purdue has positioned itself well headed into the summer months.
*****
RECLASSIFICATION BUZZ
Cooper Flagg's possible reclassification into 2024 is probably the most notable rumor on this front, as the touted forward would be under serious consideration for the top spot in the class should he decide to pull the trigger. That said, there are two high-profile 2024 prospects that warrant watching, as each could end up in 2023 in the near future.
First, is Baylor commit Yves Missi, who was conspicuous by his absence at EYBL Phoenix over the weekend. Missi has long been the subject of reclassification buzz and it's obvious that Baylor has an immediate need for a rim-protecting big man, so this is simply putting puzzle pieces together. Missi could decide to remain in 2024, but the tea leaves point to an imminent reclassification to 2023.
Then, there's the case of five-star point guard Elliot Cadeau, a North Carolina commit. Unlike Missi, the dynamic floor general has been playing the summer circuit (and posting eye-popping assist numbers while doing so). Sources indicate Cadeau is still mulling a jump to the 2023 class, however, even if he isn't planning to make a final decision until after Peach Jam in July.
*****
K-STATE A DARK HORSE FOR TOP 10 PROSPECT
A Saturday conversation with No. 7 prospect Meleek Thomas revealed a list of heavy-hitters he said have piqued his interest most. The class of 2025 five-star guard rattled them off quickly when asked about who was in the thick of the mix to land his commitment.
"Kentucky, Duke, UConn, Indiana, Michigan are all involved. K-State is involved a whole lot right now," Thomas said on Friday.
According to Thomas, the Wildcats have kicked in the door to the thick of his recruitment via their Elite Eight run last season but also because the staff has demonstrated its ability to assemble a winning roster quickly. Obviously, standing toe-to-toe with programs such as Duke and Kentucky isn't going to be easy for Jerome Tang and company, but they seem to have positioned themselves well when it comes to getting a visit.
"I'm definitely considering them in the back of my mind because of the coaching staff and the year they just had," Thomas said. "With the players they recruit and bring in, it's pretty clear that they know what they're doing. They want to get me on campus for a visit and I'm probably going to try to make it happen."
Thomas said he hopes to make a decision around this time next year and will definitely be committed before the start of his senior season.