News and notes from Signing Day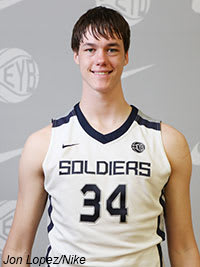 Rivals.com analysts will be here all day with the latest on the first day of the early signing period. Check back often for more updates.
A native of Slovenia, Krampelj is a 6-foot-8 swingman who just arrived in the United States a few months ago and is attending Impact Academy in Florida. Reputed to be a good shooter, Jays boss Greg McDermott said "he can shoot the ball from the 3 and can also get the ball to the basket. We expect that he will be able to be very disruptive on the defensive end of the floor, yet also score the basketball in a variety of ways." of Krempalj in Creighton's release.
Sources close to the situation confirmed to Rivals.com that Cobb is still very much solid with Kansas State. However, Cobb will wait until the spring to sign while he focuses on completing his academic work this winter.
Brown opening things up
basketball. In the past few weeks, he started to wonder if he made the right
decision and felt like he didn't fully examine all his options before
committing. For that reason, he's decided to open up his recruitment.
"It was nothing negative with Charlotte," Brown said. "I just had to look into
some opportunities that I didn't look into all the way. I just have to do that
now in the next couple weeks because I plan on signing early."
Brown says he's still considering Charlotte, but he's also now looking at
for an unofficial visit and visits again this weekend for an official visit.
"They actually had been recruiting me before I committed to Charlotte," he said.
"I was supposed to go to Auburn the next weekend after I committed, so I started
thinking recently about how I didn't give everybody a fair chance the first time
around."
Brown likes Auburn's coaching staff and their track record of using a lot of
guards. He also sees a chance to play early for the Tigers.
"They have a great staff," Brown said. "They have a history of having pretty
good guards and they rotate in a lot of guards. I like what they are doing
there. They did well in their exhibition game a few days ago. They are losing
four senior guards, which gives me more of an opportunity if I go there. That
really was one of the triggers for me."
Also working in Auburn's favor here is the fact Brown played with Auburn point
Xpress this past summer.
Don't completely count out Charlotte getting Brown back. They too give him the
opportunity to play early.
"They are also losing two senior guards. They actually had a guard that left to
go pro, so that opened more of a chance. It was nothing negative why I
de-committed. I really liked their coaching staff and their coaching style."
Brown admits he's mainly choosing between Auburn and Charlotte and a decision
will come during the early signing period, which starts Nov. 12 and runs through
Nov. 19.
"At this point, it's going to come down to my parents comfort level and how safe
they feel I am at the school. I like coaching staffs at both schools and the
style of play at both schools."
Ranked No. 76 nationally and a four-star prospect, McClure would be considered the "headliner" but the reality is that this is a solid "foundation" class for the Bears.
A product of Dallas (Texas) Triple A Academy, McClure is a physically built 6-foot-3 scorer who likes to punish defenders. His bread and butter is his mid range game and ability to get to the free throw line. A pretty well known commodity, it's reasonable to expect that McClure scores a lot of points during his career. The other guys, well the jury is out and that could be a good thing.
The outlier of the group is Acuil. Not only is he a big man, but the near seven-footer is the lone junior college prospect and a native of Australia. Like many Baylor bigs before him (think Anthony Jones and Isaiah Austin) he is a thin and angular big who likes to shoot jumpers but can block shots. If he can be a touch more physical and help bolster the frontline then his value could grow rapidly.
Of the other high schoolers signed, Mitchell is perhaps the most intriguing. An in-state guy, Mitchell is slightly undersized and a bit thin as a combo guard but he knows how to score the rock. He loves to attack off the dribble, can get hot from deep and plays with loads of confidence. Depending on how quickly he can add strength, it isn't out of the realm of possibility to see him develop into a Curtis Jerrells style guard. If that were to happen, Baylor fans would be over the moon about Mitchell.
A legacy recruit, Lindsey is a tall and smart guard. He shoots well from deep but his best assets are his passing and decision making. He's a good athlete with a frame to build on and should be a valuable role player early in his career.
Ogbeide nearing a decision
Rivals.com on Monday night that he hopes to make a decision at some point this
week, likely Thursday or Friday.
The 6-foot-8 post player out of Georgia has been working with a top five of
he's now focused on Georgia and Houston as he gets ready to decide. He took
official visits to both schools along with Tulane. Sources indicate Ogbeide is
pretty torn between the two schools.
Ogbeide, a native of Nigeria who also spent time in England and Canada, is an
athletic, strong, hard-nosed big man that will be physically ready to play as a
freshman. While offense isn't necessarily a strength, he's come a long way in
the past year and we see no reason why he can't continue to improve in that area
going forward. His biggest contributions early in his career will be on the
defensive end of the floor and on the boards.
The No. 4 prospect in the land, Labissiere is a 6-foot-11 big man from Memphis (Tenn.) Lausanne who for the longest time was considered to be a lean to Memphis. Over the past couple of weeks the Wildcats have begun to overtake the Tigers and as of today, all signs are pointing towards Labissiere going with the Wildcats.
The top point guard in the land, Briscoe was considered a lean to Kentucky when the Wildcats made an aggressive jump into his recruitment earlier this fall. But time went by and after an official and subsequent unofficial visit to nearby St. John's, the 6-foot-3 product of Roselle (N.J.) Catholic was rumored to be leaning back towards staying home.
Today, that sentiment has started to change and behind the scenes whispers have Kentucky moving back into the front of things for Briscoe and it is looking like there is a very good chance the Wildcats end up with both.
Sources close the recruitment of the No. 42 player from Radnor (Pa.) Archbishop Carroll confirmed to Rivals.com that the 6-foot-6 high flyer will announce his decision on ESPN early Thursday evening.
Though the 6-foot-5 two guard isn't particularly well known in national circles, he caught the eye of the Pirates staff while playing in the summer with San Diego based Gamepoint Black.
Soffer had a huge outing on the East Coast during a live evaluation period where he drained a bunch of jumpers and the Pirates and many other East Coast programs made a move to get involved. However, Soffer initially ended things in late September by making a commitment to Loyola (Md.).
After some reconsideration, Soffer opened things back up and announced on Wednesday that he would instead play his college ball in the Big East. Soffer has already signed his National Letter of Intent and is officially in the fold for the Pirates.
Currently a redshirt sophomore at Port Arthur (Texas) Lamar State Community College, Paul initially signed with Western Michigan as a class of 2012 recruit. The 6-foot-8 four man had a very good freshman campaign at WMU averaging over 10 points and five rebounds per game.
After his freshman season, Paul transferred to Illinois in order to test himself against better competition. However, before he could take the floor in Champaign it was decided that a detour through junior college might be best.
Paul redshirted for the 2013-14 season and will now play his sophomore season before heading off to Illinois. He rebounds well, can make a mid range jumper and has the physicality to compete in the Big Ten. He will have two years of eligibility remaining and joins a class that ranks No. 12 nationally.
Since he finished his official visit to Louisville there has been a huge swell of information suggesting that the Cardinals lead. However, on signing day some close to the scene are indicating that they think Dozier could still end up staying home. Bottom line, this one is still too close to call but any decision other than the Gamecocks or Cardinals would be a major shock.
A fine run and jump athlete, Izundu can play above the rim and shows some touch on jump shots to mid range. He has the tools to develop into a rim protector but has to develop his strength before he can be counted on to regularly impact a college game on both ends of the floor.
A product of Kansas City (Mo.) Park Hill, the 6-foot-4 Shamet signed this morning per his mother Melanie. He can shoot with range, is very effective off the dribble and is one of the top passers in the class of 2015.
Now at Wolfeboro (N.H.) Brewster Prep, Derrickson is a native of the Washington D.C. area who will head home for college. A very good rebounder who can't be easily moved by opponents, Derrickson is a big part of the Hoyas 24th ranked recruiting class. Derrickson's signing was confirmed by Brewster coach Jason Smith.
Could this be a sign that UNLV is making a move to keep Zimmerman home? While his recruitment has bounced around, one constant has been that the Rebels would be in it until the end and the official visit can easily be taken as a sign that they are going to make things interesting.
For now, Zimmerman is still going to wait, but it isn't a stretch to see his timetable moving up after he visits the Rebels this weekend.
The No. 63 player in the country, rumors have swirled since the 6-foot-2 shooting guard from North Little Rock (Ark.) first announced his pledge to the Gators back in late April that he could open things up. As of early Wednesday, no time had been set for Allen to sign his letter of intent.
Allen is a big time athlete who attacks the rim and defends aggressively on the perimeter. As of now, Allen remains committed to the Gators but his decision to wait -- if it holds -- could make his recruitment much more interesting this winter.
Per his high school, the 6-foot-6 small forward at Columbia (S.C.) Dreher will sign his National Letter of Intent at noon Thursday during a ceremony to be held at his high school.
[rl]