New player in Wall saga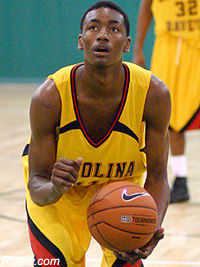 Just when things were starting to simplify for
John Wall
, things got a little more complicated for the No. 1 ranked prospect in the Rivals150. The coach of the school he was favoring took the Kentucky job, and now the hottest school in college basketball is joining the chase.
Over the Final Four weekend North Carolina head coach Roy Williams called Wall as his team was on its way to a national championship.
"He just called to check in," said Wall, a 6-foot-4, 184-pound point guard from Raleigh (N.C.) Word of God Christian Academy. "He is supposed to meet with me after the tournament."
Wall has also spent some time on the phone with new Kentucky coach John Calipari. Before Calipari's departure from Memphis, Wall had the Tigers at the top of his list.
"Coach Cal told me the same stuff that he told me when he was at Memphis," he said. "He said its all the same - the system and everything - just a different school."
So will Wall, who is still scheduled to visit Miami the last weekend of April, squeeze in a visit to Kentucky before he makes a decision?
"I've visited there already," he said. "I know the school well enough that I don't need to take another visit. I have the information I need to make a decision."
With schools like Duke and North Carolina joining Wall's recruitment on the tail end, Wall now has most of the nation's elite basketball programs recruiting him.
"I think it is pretty good to have schools like Duke, North Carolina, Kentucky and Kansas recruiting me," he said. "Those are four of the top schools that you hear about the most. It's great that coaches from schools like those want to see me and recruit me. In the end this is my decision, so I'll definitely be looking at North Carolina."