New names surface on Saturday at national Prep Showcase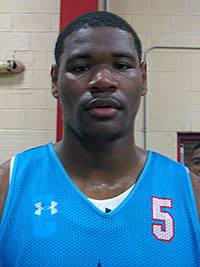 Click
Here
to view this video.
MORE:
Breaking down the early Big Ten classes
NEW HAVEN, Conn.-- Each year, the National Prep Showcase on the campus of Albertus Magnus College serves as the unofficial start to the high school/prep basketball season. There may not have been as much star power in the building as there has been in years past, but Saturday was a good day with Pitt bound Detrick Mostella and Rivals150 junior Donovan Mitchell among the standouts.
Mostella hopes to be at Pitt soon
If four-star shooting guard
Detrick Mostella
has his way, he'll be on the campus of
Pittsburgh
sooner than later. A native of Alabama and a member of the class of 2013 who spent his senior year in Indiana and originally signed with
Oklahoma State
, Mostella is currently at Fitchburg (Mass.) Notre Dame Prep.
Looking a little bit out of shape, Mostella got off to a slow start for Notre Dame. But, in the second half the explosive guard took the game over as his team completed a 20 point comeback. Finishing with 31 on 10-25 shooting (he started 1-13), Mostella showed ability to get wherever he wanted with the ball and to make shots from deep. He has a tremendously explosive first step and is extra bouncy around the rim making him very tough to contain.
Ranked No. 53 in the class of 2013, Mostella will remain in that class for now. Mostella told Rivals.com that he is finishing up an online course and taking his standardized test one more time in hopes of gaining eligibility for the second semester at Pitt. Whether it is this season or next, Mostella will absolutely need to add strength but as long as he can handle the change in physicality he has the tools to be a very productive scorer in the ACC.
Mitchell a versatile guard
As they usually are, Jason Smith's Wolfeboro (N.H.) Brewster Prep squad is loaded with talent. On Saturday, the No. 105 player in the class of 2015
Donovan Mitchell
introduced himself to the masses and looked like a kid who could work his way further up the rankings.
A 6-foot-2 New Yorker, Mitchell describes himself as simply a guard and that makes sense. He isn't really a true two, nor is he a true point. But, he's a perimeter playmaker on both ends of the floor with wild athleticism and a high basketball IQ.
Because of his big time athleticism, Mitchell is a highly entertaining finisher at the rim. He's a threat to dunk on people off the dribble and turns fastbreaks into highlight reel opportunities. But, he's not totally reliant on his athleticism. He reads defenses, can distribute the ball and is a highly alert and smart defender.
He finished with a solid line of 17 points, six steals and five boards while always staying under control. He has offers from
Iowa
,
Connecticut
,
Maryland
, Providence,
Boston College
,
Cincinnati
, St. John's and
Seton Hall
with many more looking. From the sounds of it, college programs view him as he views himself, just as a playmaking guard who you find a spot for in your lineup.
"Most coaches just feel like I'm a guard," said Mitchell. "I'm athletic, I can after it on defense and I play hard."
Garrett a spring option at the point
Schools on the hunt for a point guard in the class of 2014 don't have very many good options. Three-star floor general
Jarvis Garrett
is certainly one of the good ones. A native of Milwaukee who now attends Fitchburg (Mass.) Notre Dame, Garrett was easily one of the best point guards on display Saturday.
A solidly built 5-foot-11 floor general, Garrett is very strong with the ball and was making good decisions. He defends with toughness and what really opens things up is the fact that he is a very dangerous pull-up jump shooter. His shooting keeps defenders on their heels and almost at his mercy when he is hitting them.
Garrett finished with 25 points and four assists while controlling the tempo. He's yet to take any visits and currently has offers from
UTEP
, Rhode Island,
Creighton
and Wisconsin-Milwaukee.
"I'm just looking for a place that feels like home," Garrett told Rivals.com. "Somewhere that I can hopefully play right away and somewhere that plays fast and that plays tough defense."

A 6-foot-5 shooting guard from Oakland, Clayton is one of the biggest recruiting steals in the country. The thin wing can shoot the ball with range, he can create off the dribble and he's an athletic finisher at the cup. He likes the big moment and big shot and just needs to get stronger. A native of Harlem, Ga., Reid is a 5-foot-11 speed demon who plays with great court awareness. He was knocking down open shots, getting into the lane to make plays for others and he is an explosive athlete capable of finishing with authority at the rim. A three-star prospect, Reid has an offer from Florida Gulf Coast but other than some interest from Appalachian State his recruitment was quiet heading into the NPS. His Saturday performance will likely change that.




For Fork Union, small forward
Tavarius Shine
has really hit his stride. The Texan is an athletic and physically tough wing who has expanded his game. Previously, the three-star had seemed like more of an undersized power forward but he looks to have legit wing game now. He was hitting threes off the dribble, defended well and was productive all over the floor in a 21 point, nine rebound outing.