New England power player on the rise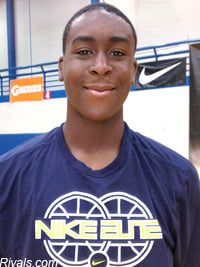 Some guys talk about being tough and playing with fire. Other guys just do it.
Ranked No. 50 in the 2014 Rivals150, the power forward is coming off a strong junior campaign at Meriden (N.H.) Kimball Union.
The four-star has been even better during Nike's EYBL as he has led his Expressions Elite club to a 9-0 record while averaging team highs in points (16.0) and rebounding (5.6).
"He's played great in the EYBL," Expressions coach Tyron Boswell said. "His level of play has risen to the competition. He's grabbing rebounds with his elbows above the rim. He's a winner, he wants to win badly."
A physically strong kid with long arms and bouncy athleticism, Abu has been working to show that his game is more diverse than just powering guys at the rim.
"He has improved his timing when blocking shots along with his outside shot," Boswell told Rivals.com. "His main goal all season is to prove that he belongs in the conversation amongst the top-tier guys in the country."
As a result, he's had to push back cutting down his list. But a cut is coming.
"The plan was to cut the list at the end of April," Boswell said. "Since then, other schools have come on strong. His game has risen and so has his recruitment which means heavy hitters are calling which changes the landscape of things.
"A list will be formed sometime soon."

[rl]