New 2016 Rivals150: Ten things to know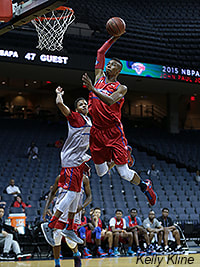 So far, the class of 2016 has been able to live up to its billing as one of the most talented classes in the last 20 years or so. Will it stand up to past great classes such as 1995, 2004, 2007 and even 2013? Only time will tell, but there's no doubt that the group is progressing nicely. As we update the Rivals150 after a long summer, wing Josh Jackson continues to edge out power forward Harry Giles by the slimmest of margins for the top spot.
Here are 10 things to know about the revamped 2016 Rivals150.
1. Steady at the top
While those four have remained constant, it's our opinion that Jackson and Giles have opened up some breathing distance and the battle between those for the top spot looks like it could one day shape the identity of the class. Both Jackson and Giles have strong arguments. The 6-foot-10 Giles is probably a little more polished overall. However, we still give Jackson the slight edge because he is as electrifying in the open floor as any player Rivals.com has ever scouted. If you're looking for comparisons, Jackson is something like a new age Scottie Pippen in playing style while Giles is somewhere between Chris Webber and Danny Manning at the same age when it comes to style.
2. Sorry, Thon
So where does
Thon Maker
fit in and why isn't he ranked in the Rivals150? A legit top five talent in the class, 2016's former No. 1 player is still a five-star prospect. However, with the influx of international players and having to decide which ones to rank and whom to just assign stars, Rivals has decided that only players attending school in the United States will be included in the ranking process.
3. Getting the point
The power at the point guard position is one of the most exciting things about this class. Seventeen of the top 60 players in the class play point guard and it's quite possible that combo guards such as No. 6
Malik Monk
, No. 13
Markelle Fultz
and No. 39
Andrew Jones
are going to get every opportunity to play the point in college and possibly beyond.
4. Fours and fives
Because this class is so strong, we have gone a bit further out with four- and five-star prospects than usual. For now, the five-stars extend all the way to No. 27
Udoka Azubuike
(making a total of 28 five-stars counting Maker), while the four-star prospects go all the way to No. 116 where
Miami
commitment
Rodney Miller
sits.
5. Elite status
Counting Azubuike, there are a total of three new five-star prospects. Smooth and skilled big man
Sacha Killeya-Jones
earned a fifth star moving from No. 51 to No. 26 thanks to a strong summer. Making the biggest leap to five-star status is power forward
Wenyen Gabriel
, whose dominance on the adidas circuit during July allowed him to move from No. 84 to No. 17 overall.
The only player to move down from five- to four-star status was
Seventh Woods
. An extreme athlete and big-time defender, the point guard from South Carolina slid down to No. 36 from No. 25 overall. If he can show development on the offensive end as a senior he could earn back that fifth star.
6. Fox vs. Smith
Another ranking debate that is going to play out during the 2015-16 season looks to be
De'Aaron Fox
and incumbent Dennis Smith as the top point guard. A long and lean 6-foot-3 floor general from Houston, Fox has come on strong to claim the No. 5 spot in the rankings while Smith had a tremendous summer. But, Smith also suffered a knee injury that will cost him his senior season. We don't want to drop somebody because of injury, but as hard as Fox - and others - are charging it's something that will eventually have to be sorted out.
7. Virginia, UCLA rolling
Arizona State
,
Auburn
, Duke,
Georgia
, Harvard,
Michigan State
,
Mississippi State
,
Northwestern
,
Oklahoma
,
Syracuse
,
Texas A&M
,
UCLA
and
Xavier
each hold commitments from two Rivals150 prospects.
8. Duke vs. Kentucky
It looks like
Duke
and
Kentucky
could be on a collision course to compete for the No. 1 recruiting class for the third year in a row. Duke's No. 1 class of 2014 won the Blue Devils a national championship before Kentucky used some late additions to edge out the Blue Devils for the No. 1 spot in 2015.
The Blue Devils already have No. 3 Tatum and No. 10
Frank Jackson
in 2016 while the Wildcats have landed No. 26
Sacha Killeya-Jones
. Each program is still involved with several elite talents and nobody has been hotter on the recruiting trail than
Mike Krzyzewski
and
John Calipari
the past few years.
9. ACC is top league
From a conference standpoint, the ACC has separated itself from the pack at this point. A total of 16 players have already committed to conference programs. The SEC (12) and Big Ten (10) are the only two conferences to also have double-digit commitments. Here is the breakdown for the ACC's 16: five-stars (five), four-stars (seven), three-stars (four).
10. Big 12 struggling
As good as early recruiting is looking in the ACC, SEC and Big Ten, things aren't looking so sweet in the Big 12. After an average overall recruiting year in 2015, the conference is again struggling in early recruiting. So far, only four Rivals150 players have committed to play in the conference and they are spread across only three teams (
Baylor
, Oklahoma and
Texas
). That's fewer Rivals150 commitments than either the AAC (five) or Big East (eight) to this point.

Click
Here
to view this Link.