NBPA Top 100: Three major takeaways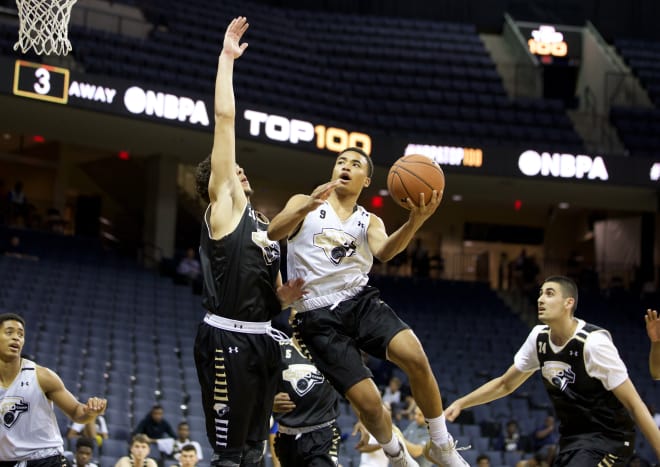 The NBPA Top 100 Camp brought some of the most competitive play that we have seen in some time where a slew of performers were able to enhance their stock. We spent three days in the gym in Charlottesville walking away with three top takeaways thanks to the play of the point guard crop, what's in store in 2019 and Louisville's find early on.
COMPETITION OF THE 2018 POINT GUARD CLASS
The class of 2018 is not the strongest as the elite talent atop lacks for sure fire NBA prospects outside of a select few. Zeroing in on the point guard position, while there is no definite, can't miss lead guards compared to Markelle Fultz, Lonzo Ball and De'Aaron Fox dating back to 2016, there sure is definite, college-ready players at the most important position on the floor.
We entailed the epic battle between Immanuel Quickley and Ayo Dosunmu on Thursday evening, a brouhaha that brought out the very best in each of the top-30 guards. The duo might battle it out for the fiercest of competitors in the 2018 class as each attempted to get the best out of each other. They do have their downfalls but they also are more than ready to play and star at the college level. Kansas is already involved with both but is more than likely to land Dosunmu, thanks to his friendship with recent transfer Charlie Moore, than Quickley, who may be Kentucky bound.
Outside of the duo, we quickly touch on a few of the other 2018 lead guard standouts from Charlottesville.
Speaking of Kansas, the Jayhawks remain in the mix for Devon Dotson, a 6-foot-2 lead guard that brings Jameer Nelson dimensions to the floor. He definitely had his best on tap in Virginia as he played much more under control and looked the part of an immediate cog of a championship contending team next year. Outside of KU, Florida and Maryland are the other likely destinations for him, though he is down to a total of eight schools.
When it comes to immediate, college ready point guards, the conversation cannot start without touching on Jahvon Quinerly. The 6-foot rising senior may not have the strongest of bodies, nor is he the most explosive, but his ability to run a half-court offense and make the proper decision thereafter is special. Down to a final seven, Villanova seems to be in a good spot as Stanford, Arizona, Seton Hall, Kansas, Virginia and UCLA remain in the hunt; he heads to Arizona on June 24 for an official visit.
He still does have to become more consistent with his play and his jump shot but there is no questioning the immense talent level of Elijah Weaver. Down to a final group of 12, Oklahoma State, Florida, Ohio State, and Villanova are the likeliest of spots for the top-50 guard. The lefty has an exceptional feel for the game and thanks to his 6-foot-4 standing stature, has the chance to play in various lineups in college.
One of the top names in the 2018 class for some time now, Javonte Smart has had a few prospects jump him in the rankings but his game and production remains intact. A 6-foot-3, physical and aggressive point guard, Smart isn't the quickest, nor does he shoot it great, but he is more than ready to lead a high powered offense as a freshman, as LSU remains the favorite for his services.
Lastly, each is already committed to a college program but Jordan McCabe, headed to WVU, and Kendric Davis, who has verballed to TCU, bring moxy, toughness, quickness and passing skills to the court, each finishing the camp top-10 in assists.
CLASS OF 2019 IS PROMISING
Where the class of 2018 leaves you wanting more, the class of 2019 brings a breath of fresh air as the talent base among the top-25 has a mixture of immediate college producers and high upside guys. Despite missing a few five-stars thanks to their participation with the USA under-16 basketball team, there was more than enough talent on tap in Virginia to leave one with the idea that the future of the game is in good hands.
Cole Anthony and Ashton Hagans created a great debate as to who the best point guard is in the 2019 class. We all love to argue over who is the best of the best but what we can't question is just how potent each is. Anthony is the better scoring force as he was top-five in the event in putting the ball through the basket, yet he also was top-five in assists, too. Hagans, the better defender, solidified himself as an elite, blueblood type of guard who sets the tone right from the tip thanks to his passing and defensive acumen.
Scottie Lewis and Bryan Antoine sure do not lack for talent as each have already led a high-major recruitment since eighth grade. The potential to attend the same school remains on the table but one has to be impressed with their versatile skillsets and their ability to impact the game in every way possible.
Quite possibly the most polished prospect in the 2019 class, Matt Hurt has begun to work himself into a good sized small forward as he defended better on the perimeter compared to the past, rebounded the ball at a high rate and also created for others. He remains a three-level scorer that only solidified his status further as a five-star prospect this past week
Outside of the standout five, Christian Brown, Cassius Stanley, Trendon Watford, Jeremiah Robinson-Earl, Tyrese Maxey, Pat McCaffery, Armando Bacot, Kofi Cockburn and Joey Baker also left a solid impression.
ANFERNEE SIMONS BRINGS A SCORING TOUCH
The departure of Donovan Mitchell left a damper on the optimistic vantage point of Louisville's upcoming season. There still are aspirations of Final Four play thanks to the incoming crop of talent along with such returning cogs as Quentin Snider, VJ King, Deng Adel and Ray Spalding. Beyond next year, there will not be an issue putting the ball through the basket as long as Anfernee Simons remains a Cards commit.
A 6-foot-2 combo guard that can play either spot in the backcourt, Simons is best used as scoring weapon on the perimeter. A high four-star prospect in the 2018 class, Simons torched the nets early and often at John Paul Jones Arena, hopefully a sign to come for Rick Pitino and his program, seeing that they have struggled so mightily to put points on the board against the Virginia Cavaliers.
He is not a super explosive guard but he does not lack for intellect as Simons understands where his spots are at on the floor and has no issues in getting to them. He is an immediate bucket getter and whenever he is hitting, which is more times than not, the Team Breakdown product is slated to become a top scoring piece for Louisville in the years ahead.
Throughout camp play, he averaged over 11 points off of 42-percent shooting from the 3-point line, doing so in less than 22 minutes of action.