NBPA Top 100: Maker makes his mark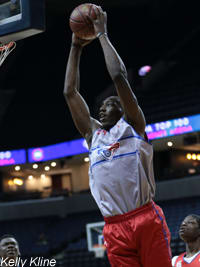 out to compete in USA Basketball and others choosing to skip the event, the NBPA
Top 100 Camp was still best assemblage of talent in one building this spring and
discuss him and many others during a final look back at camp.
It was the 2014 NBPA Top 100 Camp that served as a bit of a springboard for
great July and the seven-footer earned the No. 1 spot in the class of 2016.
After that, things seemed to get a bit off the rails for the talented big man.
Maker decided during the 2014-15 season at Orangeville Prep in Canada that he
would switch to the class of 2015 and showed flashes of brilliance but had a
relatively disappointing season -- especially in comparison to his ranking -- and he
finished at No. 9 in the final rankings for the class of 2015.
Now, Maker has decided to go back to his natural class and, if the way he played
in Charlottesville is any indication of what to expect, he looks to be back to
complete top form.
At camp, Maker played with tremendous energy and was a factor on both ends of
the floor. Instead of roaming the perimeter and hunting jump shots or drive
opportunities first, Maker used his quickness, length and improved strength to
make things happen around the hoop. He pounded the glass, he protected the rim,
he sprinted the floor and only after he got some easy buckets near the hoop did
he face and when he did that he focused more on mid range jumpers and driving to
the rim.
Maker finished camp second in overall scoring average, first in rebounds and he
led his team to the camp championship. Basically, Maker did any and everything
that could have been asked of him and deserves credit for showing up and playing
with max effort and in a style that would produce max results.
Prior to announcing he was going to head back to the class of 2016, Maker had
been eyeing a December 2015 enrollment and his recruitment had appeared to be
weeks should likely see many more explore options with him since his situation
has again changed.
Because of his play, Maker would earn the MVP award but he wasn't alone in his
terrific play throughout the event. Joining him on Rivals.com's All-Camp Team

"Bam," the No. 8 player in the class of 2016
was a monster all week long. He missed Wednesday's action but was a total beast
once he showed up. He led the camp in overall scoring average and was second in

argument to be considered the top player at the point guard position. Already a
five-star who ranks No. 10 overall in his class, he needs to move up a little.
Duval utilized his 6-foot-3 size, strength, skill and athleticism all week long

shooting guard has made a compelling case for a rise from four to five-star
status. He is as good as any shooting guard in the country at creating a shot
off the dribble, has a diverse mid range game and can be explosive athletically

ranks No. 31 in the class but was already on his way to five-star status. After
the performance he put on at NBPA Camp, Jackson could make a push for the
national top 10. Explosive as they come with the ball in his hands, he's a

2016, Ponds is another scoring point guard. He used his quickness, ready plays

6-foot-9 four man continued his grassroots tear. He played with strength and
physicality and blended in skill to score pretty much at will while averaging
15.4 points per game which tied him for third overall (with the previously

Simpson was easily one of the most pleasant surprises of camp. The 5-foot-11
point guard from Lima (Ohio) Senior was efficient scoring the ball and showed
real toughness. He got into the lane, hit deep jumpers (47.6 percent from three) and

player on the All-Camp list. The 6-foot-9 power forward looked like something of
a young Sam Perkins as he rebounded the ball and mixed inside play and sneaky
athleticism with his ability to shoot the ball out to the three point line.
Raising their stock
As always, a handful of players used the NBPA Camp as an opportunity to boost

the national top 15 to boost their stock, but that's what Bamba did. The 2017
big man is very skinny, but his tremendous reach, ability to runt he floor and

the 2016 Rivals150. When the ranking gets updated next week, space will be found
for the tough 6-foot-5 wing. He has really improved his outside shooting, plays

great size for a shooting guard at 6-foot-5, wields a beautiful jump shot and
showed that he's a graceful open court athlete. He needs to get stronger and

the spring and hadn't shot the ball great from the field. At Camp he was making
great decisions with his shot, maximizing what the game gave him and playing

make the next set of rankings. He's got a ways to go on the offensive end but
the 6-foot-9 rising junior has great timing to go with his long arms as a shot
blocker. He plays hard and has a body built for contact.