NBPA Top 100- First session part one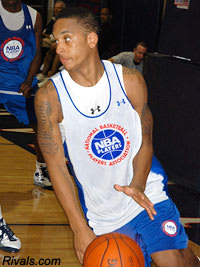 CHARLOTTESVILLE- The NBPA Top 100 camp is annually one of the top event's in the country. Shoe company affiliations are thrown out the window as the nation's top players go head to head. The 2010 edition kicked on the floor of the University of Virginia's John Paul Jones Arena on Thursday morning and there were no shortage of standouts even with USA Basketball's 18 and 17 under teams costing the camp some talent.
Among those making early impressions were D'Angelo Harrison, Tracy Abrams, Dorian Finney-Smith, DeAndre Daniels and others.
NBPA- First session standouts
D'Angelo Harrison
, SG, Missouri City (Texas) Dulles- It wouldn't be a surprise if Harrison ended up leading the camp in scoring. Armed with a remarkably quick trigger, he's a scoring machine who needs little time, space or encouragement to let jumpers fly. He can get bumped off of his path and needs to add to his game off the dribble, but he can strip the nets with the best of them.
Tracy Abrams
, PG, Chicago (Ill.) Mount Carmel- The future Illinois point guard waged perhaps the most entertaining head to head battle with Tennessee bound point
Chris Jones
. While Jones had his moments, Abrams won the duel. One of the toughest kids in the class of 2011, he plays a rugged game at the point and is brimming with confidence. He's under control, swishes home pull-up jumpers with ease and has the strength to finish and distribute in the lane. He's really improved over the last year.
Dorian Finney-Smith
, SF, Portsmouth (Va.) Norcom- "Do-Do" didn't get a bunch of touches from his guards and was playing more as a four man, but that didn't stop him from producing. If you don't give him the ball, he just goes and gets it off the rim and is a playmaker in transition. His activity on both ends was impressive and he'll be due a nice bump in the next set of rankings.
DeAndre Daniels
, SF/PF, Woodland Hills (Calif.) Taft- Because he'll be a fifth year guy, Daniels will likely need to attend a prep school for his final year of high school. Whoever gets him will be lucking out as the 6-foot-8 forward is tough to stop on the offensive end. Known as a jump shooter, Daniels was more aggressive attacking the rim and looking to get on the offensive glass. Along the baseline, he is happy to spin to his right or left shoulder to let his flat un-guardable turnaround jumper fly.
B.J. Young
, SG/PG, Florissant (Mo.) McCluer North- He's rail thin, but Young is always in motion towards the hoop. He makes excellent use of stop and go maneuvers, changes speeds and is comfortable going right or left. At times, he plays in a bit of a tunnel and misses open teammates but there's no question he's developing as one of the top perimeter scorers in 2011.
Dai-Jon Parker
, SG, Alpharetta (Ga.) Milton- Pressed into action at the point guard position, Parker struggled some with turnovers. However, the 6-foot-3 shooting guard showed off a lighting quick release and improved range as a jump shooter. Any mistakes he made with his passing were quickly made up for with his tremendous ability on the defensive end.
Nick Faust
, SF, Baltimore (Md.) City College- One wouldn't call the skinny 6-foot-5 wing's jumper conventional, but Faust gets it off quickly and has legitimate NBA range already. He can score in transition and isn't one to back down. Would like to see him attack a little more off the dribble.
Ryan Arcidiacono
, PG, Langhorne (Pa.) Neshaminy- A 2012 point guard with excellent size, Arcidiacono is a flat out killer operating off of the high ball screen. Play it underneath the screener and he'll make you pay with a jumper. Play over the top and he's going to find somebody for an easy bucket. Steady player who took some early defensive blows checking
B.J. Young
but more than bounced back.
More session one notes
Jamal Branch
defended
Myck Kabongo
as well as any 2011 point guard we have seen. That's been a trend for Branch all summer and he's among the top, if not the top, on the ball defenders in the country. On the flip side, he's been struggling with his offense for a few events now. .. The jump shots weren't going down for
Amir Garrett
like they were a few weeks ago at Pangos All-American camp. However, the athletic 6-foot-5 lefty is instant energy and he's definitely going to give a tremendous effort. … Baltimore big man
Greg Lewis
is going to get a lot of long looks this summer. He's got lean strength and is pretty mobile at 6-foot-8 and 220 pounds. He's also got surprising touch on his jumper to 17 feet. … Memphis bound
Anthony Norris
is a long and athletic lefty. He's an excellent straight up leaper and looks like he should be a good shooter down the road. … One of a handful of 2012 kids in attendance, 6-foot-8 power forward
Robert Carter
of Thomasville (Ga.) High had a nice first round. He's a strong kid who can score at the rim, with the dribble and makes mid range jumpers. … Size is at a premium for most teams in camp so the Hawks have to love being able to trot out both 2011
Joseph Uchebo
and 2012's
Kaleb Tarczewski
. A North Carolina State pledge, Uchebo's skill as a scorer has been underrated and he's got a big body. Tarczewski, is even bigger and he's active around the glass on both ends of the floor. …