NBPA Top 100: Drew Timme sees the bluebloods enter the mix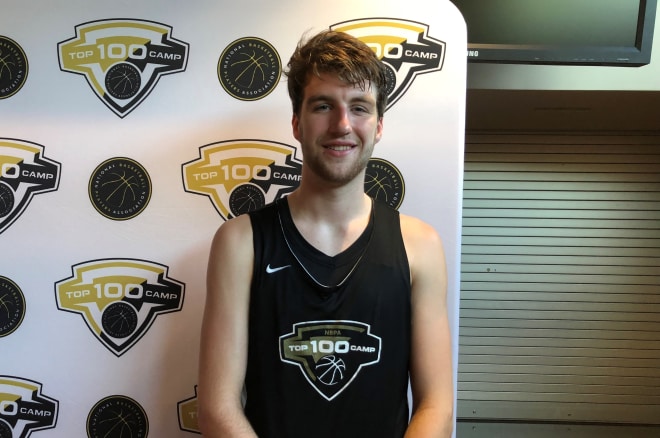 CHARLOTTESVILLE, VA. – One of the most heavily recruited prospects in the 2019 class, Drew Timme remains a wanted man for some of the top programs nationally. Far from a college decision, the Rivals150 forward has seen a few blue bloods enter the mix as a cut list is on the horizon.
Competing against the elite at the NBPA Top 100 Camp, Timme discussed his time in Charlottesville. "Just playing against the best, this is the place to do it. There is no one that can't play here," he said before recapping his spring. "It has been crazy. It has been a lot of fun and I am just grateful for all of the attention that I have received."
Offers from Baylor, Purdue, Virginia, Gonzaga, Alabama, Ohio State, Florida and Texas are in for Timme, though Michigan, Arizona and Duke have also begun to show heavy attention of late.
IN HIS OWN WORDS
Duke: "Coach (Jon) Scheyer just hit me up last night. He has been talking about having heavy interest in me. He wants to have Coach K check me out next month."
Virginia: "They have been number one a lot recently. Coach (Tony) Bennett has made it into a tough program and has consistently made them among the tops so it is a great school"
Michigan: "(John) Beilein came down to my school to watch me work out two or three months ago. I have talked to them a lot and to Coach (Luke) Yaklich about getting up to campus.
"I loved their style of play and how they use (Mo) Wagner. I have had a lot of comparisons to him; I need to improve my 3-point shot but I think that is how I will play in college."
Arizona: "They are a great program. They got in trouble, obviously, and that was my one concern because I didn't want to go where there were sanctions and I want to play in the NCAA Tournament, that was a big thing, but he (Sean Miller) reassured me of things and what happened had happened. I think they will be fine."
WHAT'S NEXT?
Timme will complete his time in Virginia at the NBPA Top 100 Camp this week before finishing his travel career next month with the Drive Nation 17-under program.
In the meantime, Timme has hopes of visiting a school or two before July begins. "I am trying to sit down and set up some visits. I have visited a lot of places so far so some of the new schools that I am considering. I want to go somewhere that I am wanted; that is something that I want," he said before discussing when a final list might be set. "After Peach Jam, I am really going to sit down and cut it down to six or eight schools."
RIVALS' REACTION
Timme is such a heavily coveted prospect thanks to his toughness, hard playing mentality, skillset and production around the basket. An underrated passer that can shoot and rebound, Timme has posted solid per-game averages on the Nike EYBL circuit this spring of 14.5 points, 8.4 rebounds and 2.3 assists.
Having led a priority recruitment for the past year, Timme has now entered the waters of the blue bloods. Arizona has already offered and further watching by the Duke staff could lead to one, as well. Expect for a cut list to be created by the end of July with visits taken shortly thereafter.