NBPA Top 100: Bamba creates stir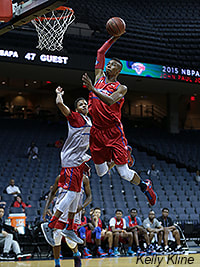 Technically speaking, Bamba's ascension to national prominence began during the winter. However, it has been his play with his club team, the PSA Cardinals, and in individual camps such as NBPA that has turned him into one of the truly elite prospects in the class of 2017.
The No. 15 player in his class, Bamba has been steady in his production and effort. Bamba, a skinny 6-foot-11, 205-pounder from Harlem, N.Y., makes up for what he lacks in bulk with ability and long-term upside.
He has shown a willingness to bang around in the paint, he's altered shots defensively, been a factor on the glass and proven that he can step out to around 12 feet and comfortably make shots.
Bamba, who plays his high school ball at the Westtown (Pa.) School, is happy to see the work paying off.
"It all started with hard work," Bamba said. "Last summer I was in the gym, then this winter I was in the gym and I'll be in the gym this summer too."
"It absolutely makes me want to go harder," Bamba said. "If people have something that they expect me to be I want to do everything I can do to exceed those expectations."