NBPA Top 100: Aidan Igiehon nears a cut list with visits in mind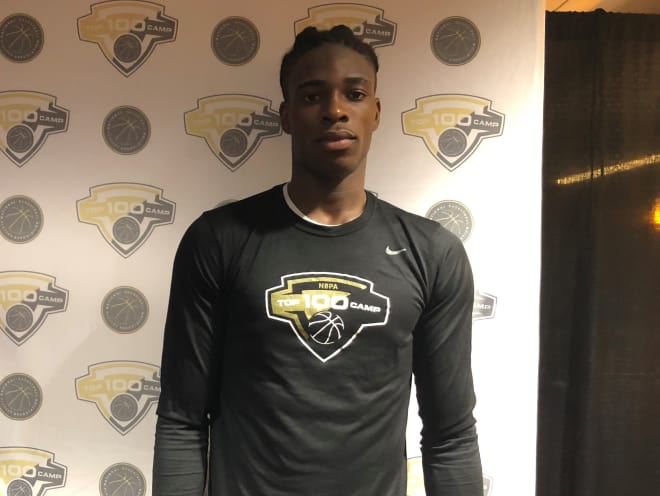 CHARLOTTESVILLE, Va. – One of the more unique stories in the 2019 class, the future of Ireland's national basketball program, Aidan Igiehon, has not been short on college interest since his high school career began. Entering his senior summer, he discussed his strengths, those involved and potential visits on the horizon.
"I used to play soccer, so I am used to go, go, go. So I am a pretty natural athlete that can go run and jump," he said regarding his well-polished motor. "Just getting up and down is what I do best. I have just been trying to show my versatility."
Oregon, Stanford, UConn, St. John's, Louisville, Indiana and Florida are just a few that have placed a heavy priority on the Irish standout.
IN HIS OWN WORDS
USC: "It was a good relationship with the head coach (Andy Enfield). We talked a lot on the phone and Coach (Chris) Capko, we texted a lot, but they are pretty much ruled out because they got (Isaiah) Mobley and Onyeka (Okongwu). So it is kind of crowded at my position and I don't think it would really suit me best."
Louisville: "I will definitely visit there. With Chris Mack and Coach (Luke) Murray, they have been recruiting me since Xavier. They have told me that they didn't think they had the chance to get me, so that is why they were off and on, but once they got to Louisville they have treated me like a priority. The thing with them is that I know they are a great coaching staff and Chris Mack is a great coach because he took a mediocre team to a top-10 team, so he is now at a high-major program and in the ACC so just imagine what he can do."
Stanford: "They are a big one for me, since I am a high academic dude. I could get the best of both worlds with them. They have been coming after me really, really hard and their whole pitch is life after basketball. You can build lifelong relationships in business and stuff like that."
Duke and Kentucky: "They told me not to cut my list yet. None of them have offered yet, since none of them have seen me a lot and didn't realize what I was like until this spring. They are recruiting me and all of the coaches talk to me. Coach (Tony) Barbee texts me a lot and they both just want to see me play in July."
Indiana: "They are another one that goes hard. I get texts from them pretty much every day. He (Archie Miller) is a really, really good coach."
WHAT'S NEXT?
Igiehon will complete his time at the NBPA Top 100 Camp this week before finishing his senior travel career on the Under Armour circuit next month with the Team Rio 17-under squad.
The next step will be narrowing his college list.
"It is happening really, really soon. I am looking at a top eight or final seven and just looking for the live periods to get over first," he said before noting a few programs that he could visit in the coming weeks. "After this camp, I am going to try and take my first stop at Louisville. No officials until late August or the fall," he said. "I am going to try and get Kentucky in there and a few others around me. Maybe try and get down to Florida, too."
RIVALS' REACTION
A 6-foot-8 big man that can exchange ends of the floor like a guard, play above the rim, score from inside and out and provide stout defense at all three positions in the frontcourt, there is a lot to like with Aidan Igiehon.
A commitment is still distant, as a final school list must be published - one that should be created by the time August rolls around. In the meantime, expect for the very best nationally to continue to prioritize as bluebloods Kentucky and Duke will keep a close eye during the July evaluation periods.