NBPA Spotlight: Four-star Weatherspoon planning trips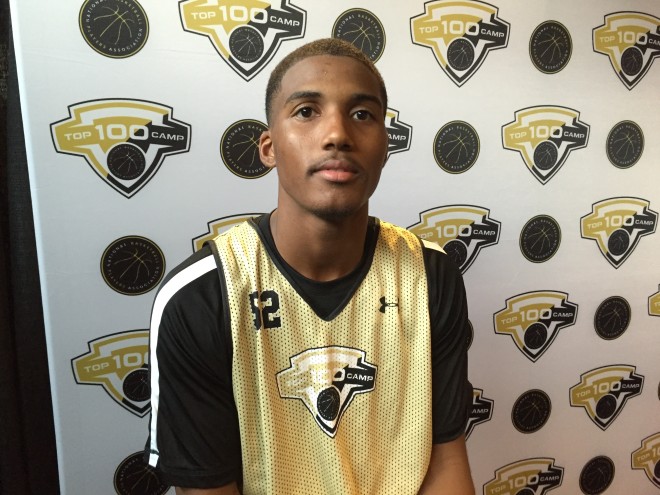 CHARLOTTESVILLE, Va. -- His older brother Quinndary Weatherspoon was a Rivals150 guard in the class of 2015 and just finished a big freshman year at Mississippi State. Now four-star combo guard Nick Weatherspoon is making a name for himself.
RELATED: NBAP Day One: Langford is tops

A 6-foot-2 product of Camden (Miss.) Velma Jackson, Weatherspoon had a terrific spring with MBA Hoops and got off to a good start on Wednesday at NBPA Camp. He's explosive when turning the corner off a high ball screen, an active and quick on-the-ball defender and he flourishes in transition.
Once he finishes up camp, Weatherspoon says that he'll make visits to three of the programs that have offered him scholarships in North Carolina, Louisville and N.C. State.
"It's real hard right now with a lot of colleges calling and making it busy," said Weatherspoon of finding time for more visits. "I'm still on the come up, but it's going real well because I'm getting some blueblood action. I never thought I would get these (schools), but I'm starting to get them now."
For any school recruiting Weatherspoon, the elephant in the room is Mississippi State. The Bulldogs are making him a priority and his older brother Quinndary just averaged 12 points and 4.7 rebounds per game.
Weatherspoon spoke at length about his relationship with the MSU program.
"I feel like everybody thinks I'm going there because (Quinndary) is my brother," said Weatherspoon. "I'm just looking at it if it's the right situation. Right now they have a lot of guards and I'm looking at that right now. I feel like if there are a lot of guards, then that won't be the place for me so I'm looking at that right now.
"I know a lot about Mississippi State and coach (Ben) Howland. How he develops guards, how he developed my brother and I know all of their offensive plays. They are real close to me and I'm real cool with the recruiter, so they'll be real big in my recruitment."
Weatherspoon also touched on his relationships with Louisville and North Carolina.
"I know (Louisville) is in the ACC and that's a basketball conference. I know that Rick Pitino loves his guards and he loves to let them pick up full court and play defense."
"Roy Williams, matter of fact he called me yesterday morning. He called me and told me he likes the type of player that I am and it puts a smile on my face just to know I have Roy Williams calling for me."
Weatherspoon doesn't yet have an idea of when he would like to make his commitment. He's also not yet sure if he'll need to take official visits after this next round of unofficial trips. That means these stops in Chapel Hill, Raleigh and Louisville could be huge.

"These visits are real important," said Weatherspoon. "I'm really trying to make a development (in the relationship) with these coaches and I'm trying to get close to them. The main thing with these coaches is I want to know if they are going to develop me each year of college."