NBPA Top 100: Visits in line for top-50 juniors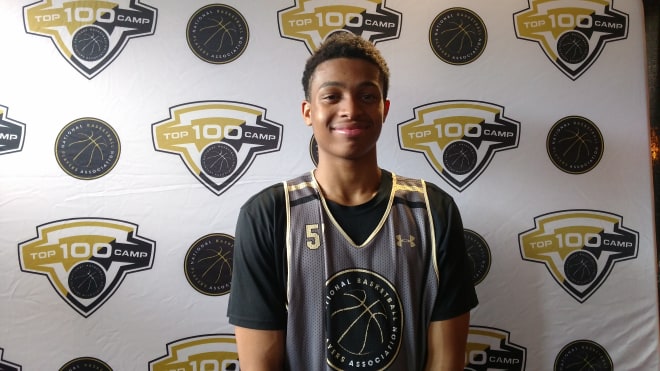 Charlottesville, Va. -- The NBPA Top 100 Camp has been a must-top since its inception and this year's crop of talent is nothing short of superb. Plenty of the very best plaeyers in America like Naz Reid and Jalen Smith, a pair of top-25 big men, have visits planned. Keldon Johnson has two of his own that he would like to visit and Devon Dotson narrowed things down to a final eight.
A prolific scoring wing, Keldon Johnson has become one of the biggest stories during the travel basketball season thus far. A takeover type of offensive weapon that is one of the more under-appreciated rebounders, Johnson took an unofficial visit to Maryland last weekend, a trip that impressed him. "It was nice. It was a great visit. They have a great coaching staff, great campus and I really had a good time there," he said. "I could be the man from day one. They will put the ball in my hands and let me do what I do."
While Maryland has made a major push for Johnson in recent months, coinciding with the hiring of Kevin Broadus, an assistant now on staff that had successfully recruited his brother, Kaleb, to Georgetown, a number of others continue to pursue. However, there are two schools that he definitely would like to spend an official visit on. "I definitely will take an official visit to Texas and Maryland," he said. "All the rest I will have to see."
Earlier in the week, Naz Reid, a five-star center, narrowed down his list of schools to Kentucky, Arizona, LSU, Louisville, UCLA, Seton Hall and Kansas. A practical blueblood affair with a mix of the top programs involved, Reid will solidify a frontline immediately next year thanks to his tone-setting abilities in the paint, rebounding skills and an underrated 17-foot and in game.
Having cut off some of the fat within his college recruitment, Reid has a pair of visits that he plans on making. "Next week, I am supposed to go to LSU and the week after that, I am going to Louisville," he said.
Playing on the travel circuit since with eighth grade with top-30 guard Jahvon Quinerly, Reid spoke on the idea of playing together with his long time teammate. "Definitely, we are one of the best duos in AAU," he said. "We are looking at schools together but if not, we are still brothers that love each other."
One of the harder to read top-25 recruitments this summer, Jalen Smith has begun to settle into things as he enters his final summer of travel basketball.
This past week, Smith visited Georgetown, a trip that intrigued the 2018 big man. "It was a good visit. I got to meet Patrick Ewing. He talked about how I would fit in and how they would develop me," he said. "Since Patrick Ewing was a big man, they were just telling me that he can help me get stronger and once I get stronger, I can be somewhat like him."
Two others visits are also in line. "I am going to Maryland next week for an official visit," he said. "They have my teammate, Darryl Morsell, which is one of the bigger things for me.
"I am probably going to visit Villanova in July, sometime after Peach Jam."
Ranked within the top-50 of his 2018 class, Devon Dotson has solidified his standing as one of the best at his spot on the floor. Having visited Maryland this past Monday, Dotson decided to knock things down to a final eight.
Florida, USC, Miami, Kansas, Ohio State, Wake Forest and Arizona joined the Terps in making the final cut. Much of the talk has centered on KU and Florida in recent months as each has put themselves in a great spot.
Arizona remains heavy in the hunt for another guard despite the recent commitment of Brandon Williams where Maryland, thanks to its own commitment of Aaron Wiggins, Dotson's travel teammate and close friend on the Team Charlotte 17-under team, could make them the dark horse for his commitment. Still, do not sleep on the local Wake Forest program, Miami, USC, or Ohio State, the latter making a late surge upon the coaching change in Columbus.
Known for his scoring punch and ability to effectively play on and off the basketball, Simons was on fire to end the evening on Wednesday. Knocking down nine of his 10 field goal tries, equating to 21 points on the scoreboard, Simons is the type of guard that can take over a game thanks to his polished and versatile scoring prowess.
Seeing that Louisville will usher out Quentin Snider after this season and will practically have no other primary guard help outside of freshman Darius Perry, expect for Simons to be used often. Seeing that he will be joined by more of a facilitator in the backcourt in Courtney Ramey, Simons should be leaned upon heavily for his scoring and playmaking abilities, all of which could make him an all-league type of guy in the coming years.