NBA Players Camp: Session one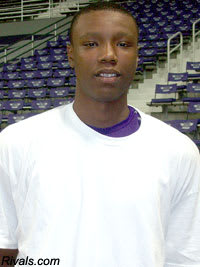 CHARLOTTESVILLE, Va.
- The NBA Players Association Top 100 Camp got underway Wednesday with a round of afternoon games. Amongst the standouts,
Wally Judge
was outstanding with his overall play.
Judge was simply a force on the court with his talented and aggressive play. Around the rim he blocked shots, secured rebounds and finished with authority. Away from the basket, he passed with precision and even knocked down a three-pointer. Kansas State has a lot to look forward to in Judge.
Rakeem Buckles
- The Louisville commitment had a similar impact on his game as Judge did on his. Buckles used his athleticism to make plays all over the court and produced buckets on slashing moves to the basket and with long range shots.
Milton Jennings
- Might as well throw Jennings into this same group of skilled forwards. The Clemson commitment produced buckets around the rim with some sharp cuts and by running the floor in transition while also knocking down shots from behind the arc.
Jordan Hamilton
- As physical a wing as there is in the class, Hamilton simply got to whatever spot on the court he wanted to get to. And when he got there, he finished more times than not.
Karron Johnson
- Johnson was a similar physical force as Hamilton in his game but it wasn't with plays off the dribble, but with his activity away from the ball and his effort on the boards. He finished with authority throughout his game.
Durand Scott
- Scott is a solid and productive player, but if he makes three-pointers like he did this afternoon, he is a lethal force. Scott didn't miss a beat coming off his strong performance at the Rumble in the Bronx.
John Jenkins
- One of the best shooters in the class, Jenkins came out firing and hit double digits by the half. If he gets space going to his left, the right handed sniper is deadly.
Underclassmen
Josh Selby
- Selby brought his torrid shooting from the Nike Hoop Jamboree to this event, knocking down at least three three-pointers by the half.
Nate Lubick
- This hardworking big man ran the floor well, finished with either hand around the rim and knocked down a long range jumper.
Tristan Thompson
- A prospect with a lot of promise, Thompson consistently attacked the basket off the dribble with mixed results. He had a couple terrific finishes in traffic, but also found himself in trouble off frequent spin moves. His aggressiveness is an asset, and as his game will really come together once he improves his strength and shooting range.
Myck Kabongo
- This 2011 point guard consistently made positive plays in his game. He didn't force shots and had a physical presence on the court while coming up with the ball on defense and then setting his teammates up for scoring opportunities.
Surprises
Damon Powell
- An athletic force, Powell made us take notice when he rose up and nailed a three-pointer and was all over the boards.
Ruslan Pateev
- The near 7-footer moves well and was aggressive rebounding and finishing at the basket while avoiding negative plays.
Recruiting news
Combo forward
Roger Franklin
said Georgia Tech and Michigan State are coming on strong while Virginia, Arizona and Michigan have recently offered to join Indiana, Oklahoma State, Utah, Oklahoma, Baylor, Texas A&M and USC as schools who have offered Franklin.