NBA Draft: Eric Bossi's Big Board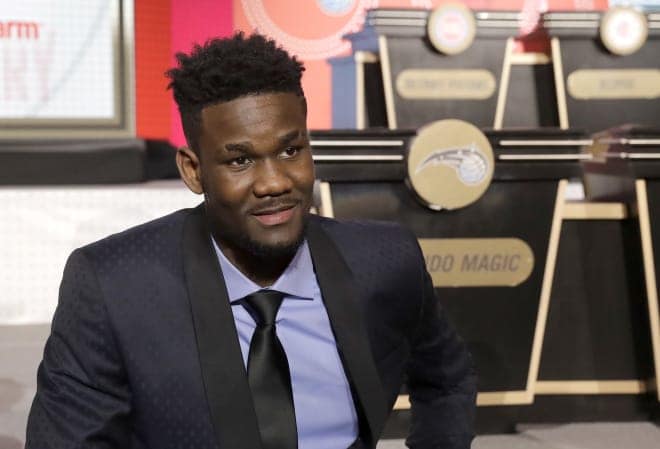 NBA DRAFT: First-round pick factories | Ten prospects that are undervalued
The waiting is over and the 2018 NBA Draft is here. Tonight, 60 young men will live out their dreams when their name gets called and they are finally NBA Draft picks. I wanted to do a mock draft but there are a handful of European players expected to be picked who I really don't know and I didn't want to just throw names at a board. Instead, I'll take a look at my big board and list who I feel are the 15 best available prospects that I've been able to legitimately evaluate.
1. DEANDRE AYTON, ARIZONA
In college: 20.1 points, 11.6 rebounds per game
Bossi's take: The question about Ayton was always what would happen once he played with a consistent motor. Well, we saw what he could do at Arizona and while he looks like more of a hulking, throwback big man, I think he fits in the new age game. He's athletic, he can shoot, he can bang with the big guys and as long as he doesn't let the millions soften up his approach, Ayton should be a tremendous pro.

2. MARVIN BAGLEY, DUKE
In college: 21 points, 11.1 rebounds per game
Bossi's take: In an ideal world, Bagley would be a little bit stronger player who is more cerebral in his approach. That being said, his quickness, ability to play above the rim and and pure basketball instincts remind me a lot of watching Amare Stoudemire at the same age. Also, I think Bagley's mean streak has been underrated. Because he doesn't mean mug opponents or do a lot of trash talking, how hard he is actually playing is lost because he makes it look easy and does so without making a big deal out of how good he is. Some players scream "hey look at me," Bagley's play does his talking.

3. MICHAEL PORTER, JR., MISSOURI
In college: 10 points, 6.7 rebounds per game
Bossi's take: I'm going on the assumption that Porter Jr. will be free of back troubles that essentially ruined his college career. Because, outside of health concerns, I don't see a better combination of skill, athleticism and size in the draft. He can play facing the rim as a mobile four man, he can play as a giant three and he specializes in making the type of tough, contested shots that a true star in the NBA has to be able to make.

4. MOHAMED BAMBA, TEXAS
In college: 12.9 points, 10.5 rebounds per game
Bossi's take: I've gone back and forth a bit on Bamba. I love him defensively and as a rebounder because of his length, quickness and instincts. But, I wonder if he has the mentality to really scrap and trade blow on the interior. He's looked good shooting the ball in workouts but an NBA floor is an entirely different animal and right now I do worry some about him checking tough and physical five men. If he gets it all figured out, though, we could all be wondering how he wasn't the unanimous No. 1 choice a few years from now.

5. JAREN JACKSON, MICHIGAN STATE
In college: 10.9 points, 5.8 rebounds per game
Bossi's take: Think about this, Jackson won't turn 19 until Sept. 15. Were he just getting ready to start his senior year of high school people would consider him to be a bit on the old side for a senior, but most wouldn't trip out about it either. Reconciling that with him getting ready to play against grown men and the world's greatest athletes isn't always easy to do. To me, he could be the evolution of Chris Bosh with his ability to shoot from deep and protect the rim. He may need a couple of years to mature physically, but his upward trend has been steady and picking up steam.

6. TRAE YOUNG, OKLAHOMA
In college: 27.4 points, 8.7 assists per game
Bossi's take: The key with Young is that whoever picks him is going to have to be committed to playing more uptempo, spreading the floor and allowing him the freedom to play through mistakes. A spread floor and more weapons around him should hopefully allow him to shoot a higher percentage and he shouldn't have to force as much in the NBA. Lack of strength is an obvious issue and he may have to be hidden some defensively, but he's a smart dude and a gym rat who I think has the drive to prove people wrong.

7. SHAI GILGEOUS-ALEXANDER, KENTUCKY
In college: 14.4 points, 5.1 assists per game
Bossi's take: The more I see and consider what Gilgeous-Alexander brings to the table as a 6-foot-6'ish point guard, the more I start to think we could see what Shaun Livingston might have been were it not for a horrific knee injury. His feel, pace and ability to slither to the rim are something else and he should eventually be a multi-positional guy on offense and defense. His jump shot has been questioned, but given his quality free throw shooting and more than respectable three point shooting in college I think he'll end up just fine as a shooter.
8. WENDELL CARTER, DUKE
In college: 13.5 points, 9.1 rebounds per game
Bossi's take: Personally, I like Carter most as an NBA five man with some skill, deceptive athleticism and the ability to step out and keep defenders honest as a pick and pop jump shooter. He's a very good positional defender, will have NBA strength sooner than later and should be a good rim protector as well. Even with Marvin Bagley gobbling up all kinds of rebounds Carter was basically a walking double double at Duke and guys who rebound that well tend to see that skill translate to the next level.
9. COLLIN SEXTON, ALABAMA
In college: 19.2 points, 3.6 assists per game
Bossi's take: Sexton is a creator off the dribble who has big time athleticism and endless energy. To me, he falls somewhere in the middle of Allen Iverson and Louis Williams when it comes to playing style. If he can be even half of that, then he will have a long and lucrative career as a professional scorer. The most exciting guard to come out of Tuscaloosa since James "Hollywood" Robinson.

10. LONNIE WALKER, MIAMI
In college: 11.5 points, 2.6 rebounds per game
Bossi's take: I remember laughing some during Walker's freshman year at Miami when he started to have a stretch of good games because some were saying "he's finally figuring it out." It was funny to me because he was still only 18-years-old and halfway into his one year of college, of course he was going to need some time. Moving on, he's got good size for a two guard, has a great energy about him and is a pretty good athlete with a jumper that should become a force to reckon with via regular work with NBA coaches.

11. MIKAL BRIDGES, VILLANOVA
In college: 17.7 points, 5.3 rebounds per game
Bossi's take: Bridges is another kid where the more I learn about him, the more I think he could end up surprising us a bit. While he was an outstanding college player who got significantly better during each of his years at Villanova, I think his game may be more well suited to today's NBA than it was college. I see him as a top tier defender who is eventually going to be more than the spot up jump shooter that many are projecting.
12. MILES BRIDGES, MICHIGAN STATE
In college: 17.1 points, 7.0 rebounds per game
Bossi's take: I think Bridges has been ready for this move for a while and I think that he actually sacrificed a lot for the better of the team during his two years at Michigan State. That humility and willing to be a team guy is going to be very beneficial while he earns his stripes in the Association. Some will struggle to not be the man right out of the gate while Bridges professional attitude along with his strength and athleticism will help him with the transition from college to pros.
13. ROBERT WILLIAMS, TEXAS A&M
In college: 10.4 points, 9.2 rebounds per game
Bossi's take: If I'm being completely honest here, Williams worries me. He worries me a lot. I'm not worried about his athleticism, size or long arms. I'm not worried about his natural ability to be a good NBA player. What worries me is whether or not he truly wants to be great. His improvement from freshman to sophomore year at A&M looked somewhat minimal and with his tools I thought he should have been more impactful as a scorer. If a team gets through to him and gets him to compete on a nightly basis, though, he could be a steal.

14. TROY BROWN, OREGON
In college: 11.3 points, 6.2 rebounds per game
Bossi's take: Some have worried a little bit that Brown hasn't been a huge winner at the prep or college level. I suppose that's a fair criticism to a certain extent but he's never been surrounded by a team full of go-getters to this point. What I like is that he can play and defend multiple positions in the NBA, he has good size, good instincts and he's another who could be a top tier defender at some point in his career. I've always likened him to Evan Turner a bit and I still think that could be a relatively fair comparison.

15. JEROME ROBINSON, BOSTON COLLEGE
In college: 20.7 points, 3.6 rebounds per game
Bossi's take: This is a guy that I totally whiffed on coming out of high school and so did many coaches. But, as I learn more and more about him heading into his NBA career I see a lot of upside. He got better and more efficient during his college years and I watch him and I think of him as being similar to an Alec Burks type guy who can come in and get buckets off the dribble while being just dangerous enough with the jumper that you have to respect it.