NBA Draft: Early look at 2019 lottery picks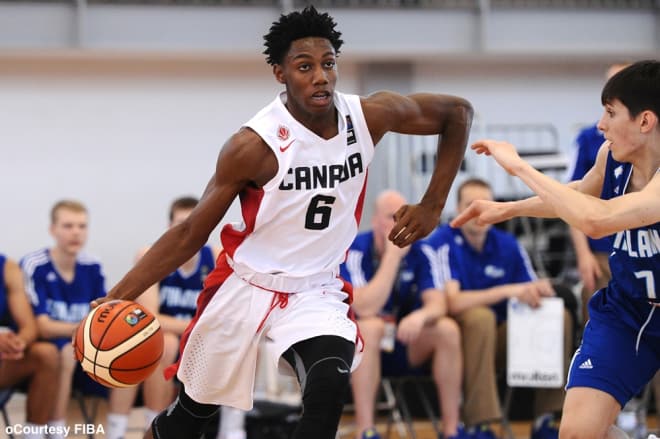 NBA DRAFT: Which program stands to gain the most from the 2018 draft?
Now that the 2018 NBA Draft has come and gone, it's time to take a look ahead to next year's draft. Much is going to change over the next year, and players who aren't currently being considered as potential high draft picks will make their way on to the radar, but until that happens Rivals.com National Basketball Analyst Eric Bossi has his early look at the top college players who could be projected lottery picks in 2019.
1. R.J. BARRETT, DUKE
Why he'll go so high: As far as things stand today, there's not a more polished player or readymade NBA prospect than Barrett. He just completed one of the most accomplished high school careers of any player during the Rivals.com era and he looks to have it all. Good size for the wing, a competitive fire to get better and the ability to elevate the level of play of those around him.
What's the plan to replace him? If Barrett and the rest of Duke's ballyhooed and top-ranked 2018 recruiting class pans out as expected, the Blue Devils could have to replace four freshmen for a second season in a row. Five-stars like Bryan Antoine, Wendell Moore and Josiah James are among those who could come in and play the wing.

2. NASSIR LITTLE, NORTH CAROLINA
Why he'll go so high: A physical and athletic monster with shooting touch to the three point line, Little went from nice looking but somewhat undersized power forward prospect to a wing drawing Kawhi Leonard comparisons in just a year. He checks all the boxes of a modern NBA player and his upward trajectory has been tough to ignore.
What's the plan to replace him? The Heels have been hot after five-star combo forward types like Matthew Hurt and Keion Brooks and freshman Rechon Black could also help pick up some of the slack if Little leaves after just a year.

3. ROMEO LANGFORD, INDIANA
Why he'll go so high: With his size, length, quickness, overall athleticism and off the charts scoring instincts, Langford is a classic NBA two guard prospect. There are huge expecations for what is expected to be one season playing in front of his home state fans in Bloomington and if he comes close to meeting them he'll be drafted highly.

What's the plan to replace him? The Hoosiers recently offered in state Rivals150 two guard Armaan Franklin and are also involved with a host of combo guards like four-stars Kira Lewis, Jahmius Ramsey and Jalen Lecque.

4. BOL BOL, OREGON
Why he'll go so high: In terms of pure talent, Bol has the potential to be the top pick if he really commits himself to the game and being serious about maximizing his potential. His size, skill and overall ability on both ends of the floor are unreall, even if he still needs to get much stronger.
What's the plan to replace him? There really isn't anybody out there like Bol to replace him with, but the Ducks certainly want bigs. Top 50 Francis Okoro is already onboard and could be coming in as a 2018 while the Bol's polar opposite, the massive Kofi Cockburn, and thin and athletic big Kai Jones are on the radar.

5. CAMERON REDDISH, DUKE
Why he'll go so high: Pushing 6-foot-8 with plus ball handling skills, smooth athleticism the ability to play as a bit of a point forward and a nice pull-up jumper, Reddish is one of those guys who would get picked first in pretty much any gym in the world. The guy just looks like he was born to play basketball. While the measurables and skill are all there, his will to win has been questioned a bit.
What's the plan to replace him? As with R.J. Barrett above, five-stars like Bryan Antoine, Wendell Moore and Josiah James are among those who could come in and play the wing.
6. DANIEL GAFFORD, ARKANSAS
Why he'll go so high: Who knows, this may be a bit ambitious for Gafford. But, he was well ahead of schedule as a freshman and the athletic and smooth big man would have easily been a top 15-20 pick had he come out after his freshman season. Considering that he didn't play competitive basketball until high school, another year to develop his skills to more closely match his athleticism and instincts and we could be looking at a very high pick.
What's the plan to replace him? Arkansas signed a big 2018 class that included capable big men like Reggie Chaney and Ethan Henderson and they'll be expected to step up should Gafford leave. In-state center Jason Jitoboh is becoming more of a target.
7. QUENTIN GRIMES, KANSAS
Why he'll go so high: Grimes is skilled and a pretty complete player on both ends of the floor. He can probably play some point and shooting guard on the NBA level and drew rave reviews playing for USA Basketball's 18U Fiba Americas team earlier in June. There's also lots of opportunity for him to step in and be Kansas' primary perimeter scorer.
What's the plan to replace him? He might not necessarily be a college two guard, but top 50 wing Samuell Williamson is the type of smooth jump shooter the Jayhawks would love to add. Combo guards Tre Mann and Jahmius Ramsey have also moved up the Kansas target list.

8. ZION WILLIAMSON, DUKE
Why he'll go so high: One of the most talked about high school athletes in some time, Williamson has a devoted following and is a crowd pleaser. He's a pretty unique guy with his extreme athleticism and 6-foot-6, 270 pound frame that kind of leaves him without a position. If he looks like a new age Charles Barkley or Larry Johnson, teams will find space for him on the next level.
What's the plan to replace him? Williamson is probably going to play a lot at the four in Durham and Joey Baker already moved from 2019 to 2018 so he'll have some experience. Plus Javin Delaurier should be around for his senior year. The Blue Devils would really like to add five-stars Isaiah Stewart and Vernon Carey and try to figure out a way to work one of them at the four.
9. CHARLES BASSEY, WESTERN KENTUCKY
Why he'll go so high: Originally a class of 2019 guy who has now enrolled at Western Kentucky, Bassey already has legitimate NBA size and athleticism on the interior. He'll likely be seen as a bit of a not quite as good Dwight Howard because of his rebounding and ability to protect the rim while his offense develops.
What's the plan to replace him? We'll have to see who Rick Stansbury comes up with to replace Bassey, but don't be surprised if he ends up getting linked with another high-level player before the end of the summer.
10. RUI HACHIMURA, GONZAGA
Why he'll go so high: This is a futures play because of Hachimura's inconsistent play to date. When he's on, he's awesome. When he's off, it is almost like he's not out there. But, he's got 6-foot-8 size, is a terrific athlete and should be able to guard both the small and power forward positions in the NBA.
What's the plan to replace him? Corey Kispert will be a junior in 2019-20 and more than up to the task of filling in for Hachimura should he leave. But, keep an eye on local product Anton Watson. He's a tough and athletic combo forward and has a bright future in Spokane.
11. DEANDRE HUNTER, VIRGINIA
Why he'll go so high: Hunter might have gone late in the first round on defensive potential and because of the thought that he'll develop into a good scorer with a jump shot. Now, he's almost a lock to go high with a decent season and the expectation is that he will step up to be the man in Charlottesville as a redshirt sophomore.
What's the plan to replace him? Players like four-star forwards Jae'Lyn Withers, Greg Gantt and Kahlil Whitney are all among UVA's top targets.

12. E.J. MONTGOMERY, KENTUCKY
Why he'll go so high: Maybe I'm getting ahead of myself with Montgomery, but I loved the strides he took as a senior and I think he'll be in a really good situation at Kentucky. Potential first-rounder P.J. Washington and Stanford transfer Reid Travis are dirty work guys and he'll be freed up to face and shoot like he likes to do and he's a plus rebounder. If he shows any toughness, his stock could soar.
What's the plan to replace him? Is anybody crying for John Calipari? Nope. Does anybody doubt he'll find another five-star to replace Montgomery (or any other players should they leave)? Nope. The top two targets just so happen to be the top two ranked players in the class of 2019, big men Vernon Carey Jr. and James Wiseman.

13. JONTAY PORTER, MISSOURI
Why he'll go so high: Porter flirted with the NBA Draft after what should have been his senior year in high school after enrolling at Missouri a year early. Now he'll have a full summer in the Mizzou weight room, more time to mature and he should continue to develop as a sound low post defender who can stretch defenses with his jump shooting.
What's the plan to replace him? If Porter turns into a lottery pick, the Tigers are probably hoping that his classmate Jeremiah Tilmon continues to develop, sticks around and is ready to be the man as a junior. As it is, most of Cunzo Martin and staff's known targets are wings and guards.

14. ASHTON HAGANS, KENTUCKY
Why he'll go so high: Hagans isn't a great jump shooter, but man is he a physical specimen. In my eyes, his willingness to play big boy basketball off the dribble and crawl up into opponents' personal space make him the best incoming point guard in college basketball. He doesn't have to be a great jump shooter, just a willing one and the Kentucky staff is going to push hin to be aggressive.
What's the plan to replace him? Not so surprisingly John Calipari and his staff already have a big time combo guard committed in 2019's No. 7 ranked player Tyrese Maxey. Big timers Cole Anthony and Jalen Lecque are among their other targets.