NSD special: Rivals150 hoops stars who could shine in football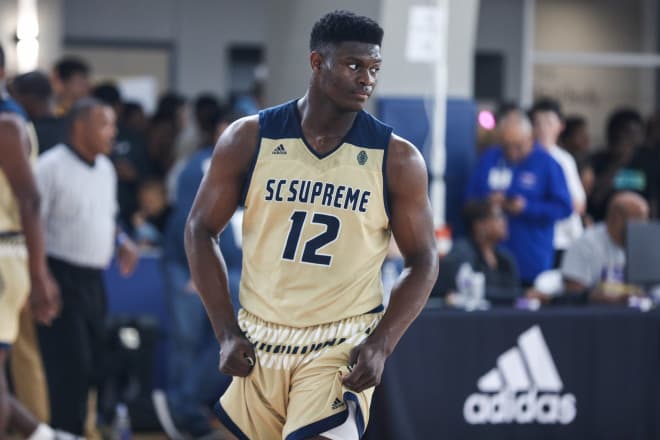 There may not be a bigger day in high school sports than National Signing Day on the football side. In our yearly nod to the football world, we take a look at 10 members of the Rivals150 that we could see trading in their high tops for cleats and being successful. Today, we celebrate the top CPFs - Coulda Played Football - prospects.
CLASS OF '18 RANKINGS: Rivals150 | Team | Power Forward | Center | Point guard | Shooting guard | Small forward
Attributes: One of the most freakish athletes we've ever come across, it's easy to envision a world where Williamson would have been a five-star prospect had he chosen to play football. He's 270 pounds of explosiveness and ferocity and his ability to be nimble and quick at his size is unlike anything we've ever really seen on the basketball court. He could be a new-age Julius Peppers or Rob Gronkowski, depending on whether he would want to play defense or offense.
Projected position: Tight end/defensive end.
Attributes: A student of the game, the native of Canada is probably the closest thing there is in high school basketball to a high-level pocket passer. Nembhard is all about surveying the floor in front of him, getting his guys where they need to go and then delivering passes with precision.
Projected position: Pro-style quarterback.
Attributes: One of the most physically gifted players in the class of 2018, Williams is eplosive, strong, tough and has a mean streak in him. He's likely got the strongest set of hands in high school basketball, and it's pretty easy to imagine a world where he gets lined up as a super-athletic and mobile pass catcher.
Projected position: Tight end.
Attributes: Duke is a big, strong point guard who is at his best when he's able to turn his shoulders and get headed downhill. He's quite adept at changing up plays on the fly and is really instinctual. Having seen him rocket full court passes with one arm and knowing his speed, the transition from point guard to a guy making a zone read could be seamless.
Projected position: Dual-threat quarterback.
Attributes: There wasn't any way that we were leaving the kid we have called "Ronnie Lott in high tops" off of this list. Bradley is put together like an NFL vet, loves contact, and can really close out on guys defensively. The rules have made it so that the days of the old "headhunter" safety have come and gone, but Bradley would have likely relished that type of role.
Projected position: Strong safety.
Attributes: Johnson is a shifty athlete with strength, long arms and great hands. His balance and ability to change directions and immediately get back to full speed have always been impressive. All of the traits that make him a dangerous transition basketball player would likely make him a guy who could help stretch defenses and make the tough catch across the middle.
Projected position: Wide receiver.
Attributes: Muhammad is arguably the single best perimeter defender in the class of 2018. Point guards, shooting guards, small forwards - it doesn't matter. His ability to lock in, move his feet, anticipate and make life miserable for those trying to score on him on the perimeter make him unique. He would be a big and versatile defender.
Projected position: Defensive back/safety.
Attributes: The first time we saw Griffin play we were taken by how physically dominant he was. He was explosive off the floor, out-toughed others for rebounds and didn't mind initiating contact. He would be able to fly all over a football field with his ability to cover ground and he's the kind of guy who would likely enjoy delivering a big hit.
Projected position: Outside linebacker.
Attributes: As much as anybody in the class of 2018, Davis plays with an edge and he wears his heart on his sleeve. He's not the biggest guy physically, but his heart is gigantic and he won't back down from anybody. It takes a special kind of mentality to be a true lockdown corner, and there's no doubt that he would love the challenge of being out on his own island charged with the task of stopping the guy in front of him.
Projected position: Cornerback.
Attributes: Prior to his decision to focus solely on basketball, Chaney was said to have been a high-level football prospect. That's pretty easy to believe. Chaney is rugged, he's athletic and he's always been one of the more physical players in the class. His size, length and body type all fit the prototype for today's big rush ends, and he looks like a guy who could get to the quarterback on a regular basis.
Projected position: Defensive end.