National Prep Showcase Sunday: All eyes remain on Simi Shittu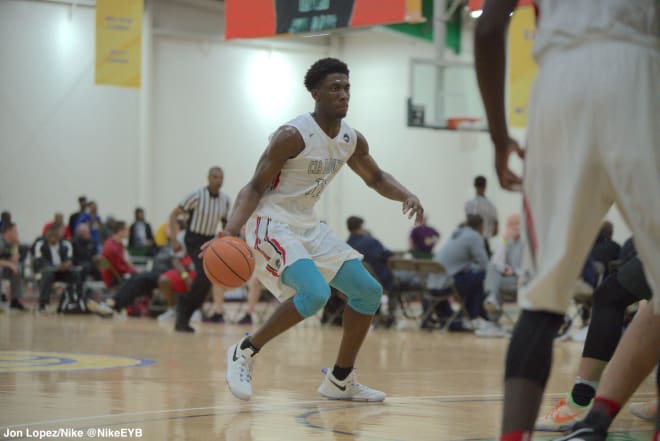 NEW HAVEN, Con. – Another National Prep Showcase is in the books and a number of standouts displayed their long-term value in Connecticut. The name of Tre Mitchell is beginning to heat up along the East Coast and Keenan Fitzmorris looks like another building block piece for Stanford, but it was all eyes on Simi Shittu as the five-star big man remains one of the top available prospects heading into the winter.
SIMI SHITTU'S STANCE
One of the elite producers in high school basketball, Simi Shittu has never shied away from the spotlight. Whether it has been on the travel circuit, at the top camp stops during the summer months, or on the prep circuit, Shittu has played very well and that was the case again on Sunday.

He is strong, he is tough, he is skilled and he continues to get better and better while playing all over the frontcourt.

While there isn't much trouble deciphering of Shittu's current and long-term value, could the end be near for his college search?

"Right now, I am still talking to my family. I am going to make a decision in a few weeks," he said before discussing the Vanderbilt basketball program. "It is a great school and I had a great visit. It was good. I am still in contact with UNC a little bit. We are still just talking about when I am going to make my decision."
After securing the commitment of top-15 guard Darius Garland last week -- Vanderbilt's first five-star commitment since John Jenkins -- the Commodores are hoping for their best ever class if they add Shittu.

"They just say they haven't had many players of our caliber before and that we could change the program and the city in general," Shittu said.
Vanderbilt remains the only school that Shittu has visited officially and unless he sets another visit, there remains great reason for optimism in Nashville.

TRE MITCHELL GATHERS OFFERS
The Pittsburgh area hasn't been known for producing high-level basketball prospects at a heavy clip but there does look to be a surge of talent in the Steel City. Tre Mitchell could be the guy to help get things headed in the right direction. The big man who attends Woodstock Academy, showed just why programs such as Georgia Tech, Pitt and Wake Forest have already offered.
What really stands out about Mitchell is just how good his hands are, his ability to play angles in the post and his high-low abilities when played in bigger lineups.
Following his team's contest on Sunday, where he finished with 15 points and eight boards, Mitchell talked about the recent uptick within his recruitment.
"Wake Forest talks to me pretty often, St. Joseph's talks to me pretty consistently and half of the Ivy League programs," he said. "Georgia Tech just offered me, too, yesterday."
Mitchell is one the better high-major options that programs along the East Coast should track. His ability to score, pass and defend is traits that will earn him a number of scholarship offers moving ahead.
NOTES FROM THE SIDELINES
... The Stanford men's basketball program has taken on the Milwaukee Bucks' way of thinking, that is recruiting multi-dimensional pieces all across the floor. They have several interchangeable wings and bigs with length. Keenan Fitzmorris will add to the Cardinal's long and intriguing roster next season. A 6-foot-11 center who can score inside and out, Fitzmorris showed a motor and great energy in New Haven. He's shown flashes in the past but seems to be finding consistency. Now, he just needs strength.

... While his team went down in defeat, there was plenty of good from Rivals150 junior guard Sherif Kenney throughout the weekend. A 6-foot-4 guard-wing that can play practically every spot on the perimeter, Kenney was in much better shape as he kicked off his time in a Brewster Academy jersey this weekend. Versatility is the name of the game with the four-star junior, a highly followed prospect that will visit Maryland on Nov. 20.
... James Bouknight has caused a commotion this fall as the 2019 guard out of the MacDuffie School has begun to state his case as a top scoring option out of the northeast corridor. Running with the PSA Cardinals program during the summertime, the tough and talented junior finished with 14 points in his team's win. Following it, Bouknight listed offers from Kansas State and Temple and he is due to hear overtures from the top programs near his New York locale moving ahead.
... Spire Academy is inching its way into the category of the top prep destination in the Midwest. It could also be the host to a slew of college programs this winter thanks to a handful of quality available 2018 prospect. Jalen Pickett was Sunday's high scorer by way of six made 3-point jumpers, equating to 32 in all. Caleb McConnell, a 6-foot-5 playmaking guard, is just seeing things pick up, as is Dom Welch. St. Bonaventure is a program that has become known for finding under-appreciated talent in recent years, a perfect example being Jaylen Adams, a likely selection in next June's NBA Draft. The A10 program is heavily involved for both, two prospects that could go from a lacking recruitment to a quality college playing career if all their cards stack up correctly.