National Prep Showcase report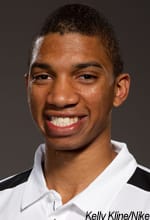 NEW HAVEN, Conn. -
Saturday at the National Prep Showcase featured four five-star prospects from the class of 2012 taking the floor at Albertus Mangus College. By the end of the day, one of them had moved to the class of 2011 and
Andre Drummond
had showed why he holds the top spot in the junior class.
Saturday standouts
Andre Drummond
, C, St. Thomas More: STM coach
Jere Quinn
begged his big man to take over and then he called a few timeouts and challenged the nation's top player in the class of 2012 to get aggressive. In the second half, Drummond responded and did some very nice things. When he sets up on the block, there isn't anybody in high school - probably not in college either - who can stop him from getting to the rim. He can shoot soft jump hooks, runs the floor extremely well and is a gifted passer for a man his size. He finished with 22 points, 15 rebounds and six blocked shots during his team's tough overtime loss.
This is a young man who holds the basketball world at his fingertips and if he finds a way to consistently unleash his inner beast, the game is going to take him a long, long way.
Maurice Harkless
, SF, South Kent: On Friday, it was 2012 shooting guard
Ricardo Ledo
doing most of the damage while Harkless played the complimentary role. Saturday, the 6-foot-6 small forward headed to St. John's took over the leadership role. He scored some in the post, hit some medium range shots and brought the house down with one particularly savage baseline drive and dunk. The stat line had him for 17 points, three rebounds and three assists, but he sure seemed to be a lot more active than that.
Dezmine Wells
, SF, Hargrave:
Kevin Keatts
' starting five is so stacked that you could put on a blindfold, spin a few circles and then point to a guy to write about having a good day. After a solid game on Friday, the future Xavier Musketeer came out aggressively and made things happen without making any mistakes. He's always been a high-level athlete, but Wells has really worked hard on his jumper and he's now a guy that people have to respect when he spots up. He'll continue to improve his ball-handling and should end up a very nice player for
Chris Mack
during college.
Kaleb Tarczewski
,
Alex Murphy
,
Nik Stauskas
, St. Mark's: All three of these juniors at St. Mark's are currently rated inside of the Rivals150 for the class of 2012. While Tarczewski and Murphy are both five-stars, Stauskas is a high three-star. Saturday night, they each proved to be very worthy of their lofty status in the class of 2012.
We'll start off with the near 7-foot Tarczewski. He's still a bit on the lean side, but he's definitely added muscle and looks more explosive off of the floor than when we last saw him at Adidas Nations. What is most impressive about Tarczewski is that he understands what he's all about and accepts that he's a big guy who belongs in the lane with his back to the bucket. Every move he makes is headed toward the bucket, he keeps the ball high and he's got a variety of finishes. He gets to the free throw line, runs the floor and continues to have a very bright future. Already No. 13 in his class, it's possible that he's a little underrated. He went for 25 and 10.
Moving onto the 6-foot-8 Murphy, he's cut out of the mold of the new hybrid forward. Because of his size, he can easily be played as a face-up four man, but he's got legitimate wing skills and is very comfortable playing out on the floor. He's not received enough credit for his transition finishing. He's got excellent body control while making his way into the lane and always goes to the rim looking to finish strong. He made a big effort to get on the glass and finished with 18 points and 17 boards.
Finally there is Stauskas. A 6-foot-4 shooting guard, he's always been known as a guy who can shoot with range off the dribble or catch. As it turns out, he's a lot better going to the rim and finishing in transition than advertised. He's got a little extra bounce in his step and is looking more like a legitimate high-major prospect.
Todd Mayo
, SG, Notre Dame Prep: Mayo was one of the toughest cuts from the last batch of rankings for the class of 2011 and it was mostly because we hadn't gotten a recent enough look. If his play in New Haven is any indication, he'll be an easy inclusion in the final Rivals150 for the class of 2011. He played the point, he played the two, he made shots, he went to the rim and he did it all with control and ease. What was impressive is that he'd been knocked out after a good start on Friday because of a nasty twisted ankle so everybody there knew that he was performing on a gimpy ankle. He finished with 26 points, seven rebounds and a handful of assists.
More Saturday notables
Obij Aget
, C, La Lumiere: While his interior and summer running mate -- Indiana-bound
Hanner Perea
-- struggled through an off night, the 7-foot Aget played as well as we've ever seen. He's still toothpick skinny, but he was very aggressive going to the rim, hitting the glass and looking to swat shots. In a surprising move, he even stepped out and hit a 15-footer from the elbow during his 10-point and eight-rebound effort.
Markus Kennedy
, C, Brewster Academy: Had he been able to knock down some more free throws, the
Villanova
signee could have had a monster game. Still, he was good for 18 points and seven rebounds in 30 minutes as Brewster ran away and hid from Fishburne Academy. He's still got weight to lose, but he looks like he's working hard to get back in shape and has definitely slimmed down since we last saw him.
Kareem Storey, PG, Princeton Day: Pound for pound, we didn't see a tougher customer than the 5-foot-11 point guard from Baltimore. A pit bull with the ball, he hit big shots, implored his teammates to give effort and carried the load offensively for PDA with 31 points as it knocked off Andre Drummond and St. Thomas More in overtime.
Final Saturday notes
The one thing that you can usually count on with
Hanner Perea
is that he's going to play like a beast. For whatever reason, though, he just never got things going on Saturday. A fine athlete with length and wiry strength, he was put into a few situations where he had to defend on the wing and just never seemed to get comfortable. We'll see the five-star
Indiana
commitment again in a few weeks and we're betting that the Perea we are used to seeing will be back on the floor. ... He was never flashy by any means, but future
Cincinnati
Bearcat
Ge'Lawn Guyn
had two nice outings in New Haven. He's asked to run the point quite a bit and does a pretty good job of it. Has the size to play off the ball as well and has gotten stronger. ...
His trademark pull-up jumper wasn't dropping like it usually does, but
Durand Johnson
is a perfect fit for
Pittsburgh
on the next level. His physical wing play, hustle and willingness to defend or mix it up for a rebound are all traits that
Jamie Dixon
covets in a player. ... In what has to be considered a major development, 2012 five-star forward
Khem Birch
confirmed that he's making a switch to the class of 2011. … Low- to mid-majors in search of a tough wing who competes on both ends of the floor and knocks down jumpers should take a long look at
Roy Mabrey
. A native of New Jersey who is prepping at St. Thomas More, he's a 6-foot-4 wing who battles, strips the net from deep and frustrates the heck out of opponents with his in-your-face and physical style of play. ...
An intriguing four man for mid-majors to track is English import
Ryan Martin
of Bridgton Academy. A 6-foot-7 insider who is mobile and has a solid frame, he runs the floor, scores in the lane and plays solid defense. He's also solid on the glass and finds ways to get to the free throw line. ... Hargrave forward
C.J. Barksdale
was more aggressive on the offensive end than we are used to seeing. The 6-foot-7 power forward was aggressive to the hoop trying to dunk everything sight. He's still on the slender side, so adding strength for college will be the most important thing for him to work on. ... Speaking of Barksdale, it's really a nice benefit for
Virginia Tech
that he gets to team up with fellow Hokie commits
Marquis Rankin
and
Robert Brown
at Hargrave. The trio looks to have developed some cohesiveness that will serve them well in Blacksburg.