National Prep Showcase Friday: Programs that should feel good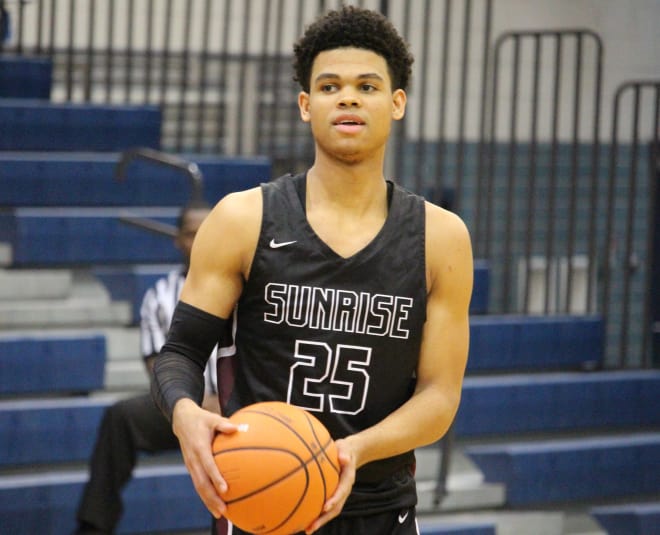 NEW HAVEN, CT. – The first day of the National Prep Showcase brought strong play from some of the best from the New England prep circuit. Seeing that we are still in the thick of the early signing period, there is no better time to assess the programs that should feel great due to Friday's standouts in Connecticut.
His production on the floor might not support this statement but it was the best that I had seen Malik Hall play in recent memory. The 6-foot-8 forward is the ideal combo forward type that ideal for Tom Izzo's system but it is his much-improved offensive skillset and, better yet, progressed athleticism levels that really stood out. Hall was never on the chunky side but whatever he has been eating or the weight program that he has bought into clearly showed on Friday. Much quicker off of the face-up, better in guarding in space and now more than capable of throwing down the poster dunk, Hall is no longer just a mesh, role guy but someone that could be set for stardom in East Lansing. Whether or not the Spartans can achieve the commitment of Isaiah Stewart or Vernon Carey is not as pressing seeing the strides that Hall has made with his game.

We haven't seen a Greg Marshall led team struggle like we have this season since, well, maybe his early days at Winthrop. One of the primary reasons for their early downfalls is due to their lack of firepower in the backcourt. Markis McDuffie has done his best to carry the Shockers but if it helps fans in Wichita at all, much needed help is on its way in the form of Tyson Etienne. A tough, gritty and solid combo guard and a member of the Rivals150, Etienne made three 3-pointers, created for other off of the timely drive and kicks and his willingness to defend both guard spots in the backcourt is each an asset that Marshall is going to love to have in his holster. I am betting the Shockers will regroup once AAC league play begins but if even if they don't, Etienne is the type of driving force in the backcourt that will adhere to the Play Angry mantra that has become the emblem of the Shockers' success over the past several years.
Going against the grain some and selecting Harvard over a bevy of power level programs, while Tommy Amaker has been no slouch on the recruiting trail, his recent pick-up of Chris Ledlum might be one of his best yet. A solid Rivals150 member, Ledlum is the ideal small ball power forward in today's game that, once he is seen by the nation more often next season, many NFL personnel may come to drool over what he could be as a potential tight end target years down the road. Blessed with a tremendous frame, long arms and an inner toughness about him, Ledlum came up with his fair share of traffic rebounds on Friday but it was his improved perimeter skillset that raised some eyebrows. His bread is still buttered in near the basket but the do-it-all abilities of Ledlum should be welcomed with open arms by the Crimson next fall.
Creighton is lacking for your prototypical floor setting guard this season but Greg McDermott should feel good with what he has coming his way next fall. Shareef Mitchell, a three-star guard with the Sunrise Christian Academy program, should fit right in. A downhill driver that is more of a scorer than a playmaker, around the proper weapons that we have become accustomed to seeing in Omaha, there should be no reason why he doesn't fill a playmaking role for the Jays upon his enrollment. Tough and wired to compete, Mitchell plays like he isn't afraid of whoever is put in front of him which was on display Friday night. He finished with 17 points, five rebounds and four assists and should find a way to positively impact the Big East program next year.
Jackson made news last month with a decommitment and then a swift commitment to Missouri within a matter of hours, something that we have rarely seen in recent years. Backing off of his pledge to Minnesota put the Gophers in a bind some but the Tigers will reap the rewards with the 6-foot-8 forward. His talent has never been in question but rather it has been his consistency on the court. That wasn't much of an issue on Friday as the southpaw showed a fairly solid perimeter jumper to go along with great mismatch dimensions in the frontcourt. A solid weapon in the frontcourt that is the likely long-term replacement for Kevin Puryear in Columbia next season, the four-star forward is someone that should have Tigers' fans excited thanks to his developing skillset and broad ranging stat sheet touching capabilities.

There is always a space for the little guys here because, like we see every March, they can be the ones that captivate the nation with epic upsets in the NCAA Tournament. A program that has not struggled to reap postseason bids of late, the Albany Great Danes, have a boss signed in the 2019 class with Mitch Doherty. Not much for being an athlete, where he shines is in the half-court as the Worcester product is more than just a contributor but rather a complete offensive weapon that can shoot, pass, rebound and change shots at the rim. He finished with 23 points, six rebounds and four assists where Doherty looks like a prime candidate to bolster the American East program from day one and be relied upon for his heady but tough approach in the frontcourt.