National Prep Showcase comes to a close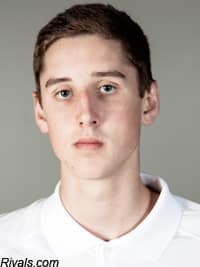 Click
Here
to view this video.
MORE:
Mostella shines at first day of National Prep Showcase
NEW HAVEN, Conn. -- Brewster Prep duo Isaac Copeland and Devonte Graham, Syracuse-bound Kaleb Joseph and junior scoring maching Damontrae Jefferson were some of the standouts as the 2013 National Prep Showcase came to a completion on Sunday.
Brewster duo has big day
Now teammates at Wolfeboro (N.H.) Brewster Prep, four-star
Georgetown
signee
Isaac Copeland
and three-star
Devonte Graham
have some synergy. The duo from North Carolina has played together for the past few summers with the Garner Roads Basketball Club and their familiarity with each other's game was on full display Sunday.
The No. 37 player in the class of 2014, Copeland backed up his lofty status. He is a smooth 6-foot-9 forward with inside/outside skill, a nice feel for the game and fluid athleticism. He still needs more weight, but Copeland has gotten stronger and it showed as he was more physical around the rim. He makes short to medium jumpers, can really get out and transition and looks to be a perfect fit for the Hoyas. He had a very efficient 20 points and eight rebounds.
Helping to feed Copeland the ball but doing damage himself was Graham. A 6-foot-2 point guard and three-star prospect who could make a run at the Rivals150, he does all that you would like a floor general to do. He controls tempo, finds his teammates for buckets, is going to be a guy who can play good defense and can go get his offense too. Graham was good for 23 points, four assists and six rebounds and he was doing it off the dribble, with the jumper and in transition. Brewster got into an up-and-down affair with a South Kent (Conn.) Prep team that featured several sub six-foot guards and Graham never rattled.
Probably the top remaining point guard in the class of 2014, Graham's recruitment is tricky. He was originally a member of the high school class of 2013 and signed a letter of intent with Appalachian State. He asked for a release from his LOI and it has been denied. Per Brewster coach Jason Smith, it means that no schools can have direct contact with him until App. State finishes this academic year and once he selects a school, he will be ineligible as a freshman because he was never released.
Virginia
,
Creighton
,
Memphis
, Providence and Butler are just a few of the teams that would have interest once Graham can be recruited.
Jefferson tones it down, still excites
Not many high school players in America generate opinions that range as widely as junior point guard
Damontrae Jefferson
who ranks No. 36 nationally does. The bottom line in the eyes of Rivals.com is that the diminutive playmaker from Milwaukee has too much talent and ability to dismiss.
For the past few summers, the 5-foot-7 guard has regularly rung up opponents for huge numbers. He's done it in a flashy manner with lots of deep shots, quick drives and he's sometimes forgotten about his teammates.
Now at Believe Prep in South Carolina, Jefferson is really trying to change his image. On Sunday, he played under control, was communicating with his teammates, putting forth much more effort on defense and still making lots happen. He can get a shot whenever he wants, threw a couple of incredible passes and has nearly unmatched quickness.
Yes he is small and yes he is still a bit wild, but his 28-point, eight-rebound, four-assist and four-steal outing was one of the top performances of the weekend. That he is trying to change the way he plays and carries himself is easily noticeable and he now has offers from UMass, Southern Miss, Cleveland State and Rhode Island.
Joseph impresses
Probably the single most impressive performance of the weekend was turned in by
Syracuse
bound point guard
Kaleb Joseph
. The No. 55 player in the class of 2014, Joseph and his Cushing Academy team took a tough loss to the Canarias Academy team from the Canary Islands. However, Joseph was flat out unguardable during a 37-point explosion.
Navigating high ball screens or just using his explosive first step to create separation, the 6-foot-2 Joseph got into the lane at will. He has the strength and toughness to finish through contact, he was hitting pull-up jumpers and he was doing it all against a team with lots and lots of size. What was most notable about his play was that most of the moves and decisions he was making looked like the types of things that translate to the next level. If he can be this good all the time, No. 55 in the country is too low.






[rl]