National notebook: Bruins recruiting with the best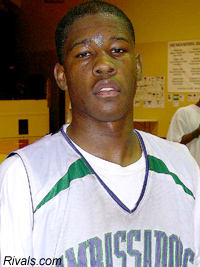 July is here, and so are some big-time commitments.
In this week's national notebook, we dive deeper into UCLA's success on the recruiting trail, examine the rest of the uncommitted five-star 2008 prospects and analyze more 2010 pledges.
UCLA, with Holiday's addition and a potential sophomore year from Love, could have enough talent (and maybe more) than the two teams that went to the Final Four. Holiday isn't alone in the backcourt.
Holiday's high school coach at Campbell Hall, Terry Kelly, thinks the Bruins are in great shape.
"I just got off the phone with one of their assistant coaches. We were talking about their classes in the last two years, and what they have coming in is just unbelievable. It looks like a class that can pick up all of the pieces and really have a great couple of years," Kelly said.
"You mix in Kevin Love and those amazing outlet passes and … that is special. Jrue is going to get out and run the floor. I love Jerime Anderson. Drew Gordon is another greyhound. And Malcolm Lee has a chance to be an absolute star. Jrue has done a great job of surrounding himself with great players. I think they have a National Championship type of class."
Credit that to the underappreciated work of Howland and his staff.
Garcia won't play in the United States again until the high school season because he is playing with the Puerto Rico U-19 team in Serbia. Garcia visited Florida recently, and is also looking at the Cardinals, Indiana and Memphis.
Williams, a 6-foot-3 Memphis native, is down to four: Duke, Memphis, Tennessee and Virginia.
Jennings, a bouncy 6-foot-10 big man from California, is looking hard at Maryland, Illinois, Cal and Washington.
Like 40 being the new 30, the class of 2010 is the new class of 2008. The trend of young basketball prospects making college commitments continues. A pair of rising sophomores made their respective decisions.
"I'm going to go fishing to celebrate," Cottrill said on Sunday afternoon after revealing his choice to Rivals.com.
For what it's worth, the 15-and-under AAU championships are in Detroit, and they run July 10-15. With the recent commitments in this division, it would not come as a big surprise if many coaches are flying in for the tournament.
The class of 2010 already boasts 11 commitments this year.
[rl]