Names to know from EYBL Hampton 16U Division
HAMPTON, Va. -- Thanks in large part to the inspired play of guards Tavon Jones and Markquis Nowell, the Playaz Basketball Club outlasted CP3 in a double-overtime thriller to win the 16U Division at the Hampton EYBL. Today we look at some 16U standouts that we'll be tracking down the road.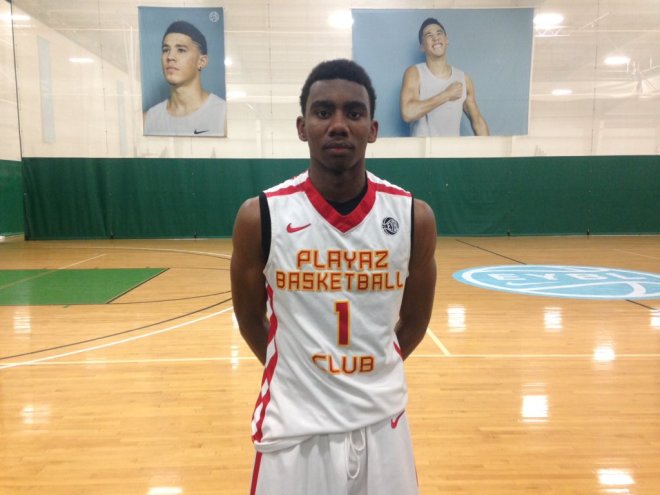 Three-star guards Markquis Nowell and Tavon Jones had a lot to do with the Playaz Basketball Club's Gold Division title. Probably no taller than 5-foot-8, Nowell plays with the heart of a lion, is a vocal leader and an absolutely lights out shooter from deep. Jones is an athletic and physical driver at 6-foot-3 who got to the rim consistently. Four-star shooting guard Jalen Carey didn't have a big game in the finals but looked good as a natural scorer during another viewing. Nowell scooped up an April offer from Seton Hall and assistant coach Shaheen Holloway -- the school's all-time assist leader -- no doubts sees some of himself in Nowell. Minnesota, VCU and Rutgers have also offered Nowell.
There was a nice regional grudge match in the 16U Silver Division title game between host program Boo Williams and Washington D.C. based Team Takeover. In the end, Takeover had too much firepower and size and cruised to the title. Impressing for Takeover was the big man duo of four-star Jalen Smith and three-star Bryce Golden. A long and skinny big who changes the game with his length, Smith (who currently ranks No. 25 nationally in 2018) has to get stronger, but his activity early got the ball rolling. Golden has more strength, is a good athlete and can face up and shoot with some range. He scored a recent offer from Penn State. Also showing well for Takeover was class of 2019 shooting guard Justin Moore. With range on his shot and a scorer's feel, Moore looks like he could be the next big thing out of Hyattsville (Md.) DeMatha.

For Boo Williams, wing Keyontae Johnson was a major find. A long-armed wing with athleticism and some touch from the perimeter, the near 6-foot-5 sophomore was very aggressive in looking to score. It was just a first viewing of him, but he sure looked like a potential high major. Though he didn't have a huge game in the final, we were also intrigued by shooting guard Elijah McCadden. Watching him on Saturday, his ability to handle the ball, athleticism and 6-foot-4 size suggested a nice future for him.

He just missed the 2018 top 75 coming out of his sophomore season, but King James power forward Darius Bazley is definitely one Rivals.com will be keeping a close eye on. Bazley is long, looks like he will develop into a very good athlete and he showed promise getting from rim to rim and as a faceup scorer. He defines upside.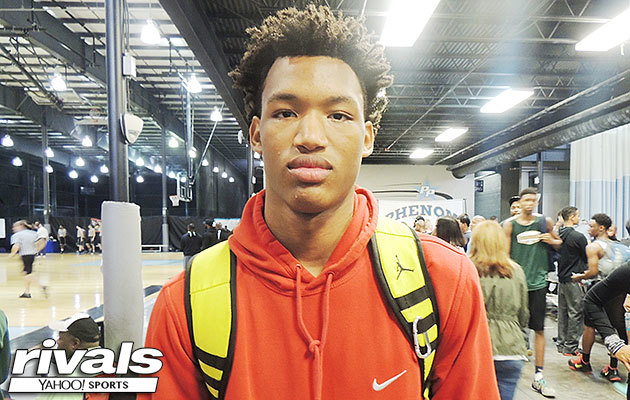 The runners up in the 16U Gold Division, North Carolina based CP3 has a nice stable of talent. Sophomore combo guard Coby White can score or run a team and has a legitimate shot at making the next round of 2018 rankings. Wing Johnny Newman is a shooter with length who gets better each time we see him. From the class of 2019, wing Wendell Moore has been highly touted and has an early offer from North Carolina. He's well put together, plays smart and is a smooth scorer. Another very intriguing piece is athletic shooting guard Tre Turner. The brother of former North Carolina guard P.J. Hairston, Turner has a pretty jumper but is more renowned as a football player at this point. A wide receiver on the gridiron, he already has an offer from Florida State for football.

As usual, the Georgia Stars have a strong-looking 16U group. Most intriguing during our viewing was 6-foot-6 wing Rashun Williams. Williams has long arms, can make some shots facing the hoop and should fill out his frame nicely. Combo guard Will Richardson is a rangy ball handler with good 6-foot-3 size and a feel for scoring the ball. Forward Jamari Smith played with reckless abandon and abundant energy while throwing around his 6-foot-6 body.

The New York City area was well represented in the 16U Division. Class of 2019 big man Kofi Cockburn of the New York Rens isn't yet polished, but he looks every bit of 6-foot-10, has a strong body and doesn't mind getting physical. Originally from Jamaica, he will certainly be one to watch. Another Ren catching our eye was wing Khalid Moore. He's an athletic 6-foot-6 and can get to the rim.

Making some noise with the New York Lightning were Aidan Igiehon and Jalen Lecque. A class of 2019 big man who is originally from Ireland, Igeihon is a well put together 6-foot-8 and an aggressive athlete. He crashed the glass, showed a jump hook and looked to be pretty physically mature for a high school freshman. A guy who loves to attack the rim, Lecque is a 6-foot-2 combo guard who showed nice burst off the dribble.
Rounding out the New York teams and our coverage of the 16U Division, the PSA Cardinals have all kinds of size. However it was shooting guard Bryce Wills and combo forward Isaiah Mucius that caught most of our attention. A top 75 player in 2018 who missed almost his entire sophomore season due to a fractured ankle, Wills is a high upside two guard who has a good skill level. Ranked No. 24 nationally, Mucius looks like he still has some growing to do and he can change the game with his length and athleticism. However, his skill and consistency need to keep getting better for him to play up to that lofty ranking.