Murray, Bragg star at Hoopfest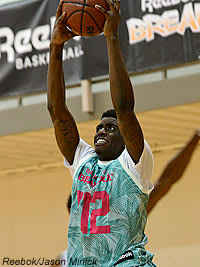 BENTON, Ky. --
One of the nation's top high school events, the Marshall County Hoopfest, delivered the goods with a grueling Saturday schedule that stretched into early Sunday morning. With one big-timer taking the floor after another, junior guard
Jamal Murray
dug in and delivered with a huge performance as his Orangeville Prep squad survived a 42-point outburst by the top shooting guard in the senior class,
Malik Newman
of Jackson (Miss.) Callaway.
Murray wills team to victory
By the time the dust had settled, a score of 85-71 didn't indicate how tight of a game it was between Canada-based Orangeville Prep and Jackson (Miss.) Callaway. A back-and-forth brawl until late free throws opened it up for Orangeville, the game featured a 42-point scoring binge from Callaway's
Malik Newman
in defeat and a 31-point performance from Orangeville's
Jamal Murray
.
To the victors go the spoils, so we will start off the discussion by reviewing the play of Murray. A 6-foot-4 combo guard who currently ranks No. 19 in the class of 2016, the five-star was outstanding in every aspect of the game. He carried the offensive load early with 14 first-half points before scoring the last 14 of his team high 31 down the stretch in the fourth quarter.
Murray pulled up in transition to hit three-pointers with a high degree of difficulty. He drove the lane to earn trips to the free throw line and he led his team vocally while competing on both ends of the floor. Capable of running the show from the point or sliding off the ball to play as a scorer, Murray refused to budge as his team got down in the fourth quarter and showed a tremendous will to win.
A true competitor, Murray said that he let the game dictate which role he would play.
"The score was too close late, I had to score at that point," Murray said after the game. "Malik got hot so I started trying to take over and hit the shots that I needed to hit."
Like everybody else in the gym, Murray was both impressed by Newman and proud of the way his team responded against the big-time senior in a pressure situation.
"I've played against him before at LeBron camp and stuff like that," said Murray. "He's a good player and hard to guard. We both played great and we played a good team game and that was what I was really looking for."
On the recruiting front, Murray said that his father has been handling most of his recruitment for now, but he did mention
Michigan State
,
Louisville
,
Michigan
and
Illinois
as some of the teams with interest. Murray also addressed talk about a possible move to the class of 2015 by indicating that he is in a position to do so academically, but that any decision to reclassify will be made much further down the road.
Moving on to Newman, the 6-foot-4 shooting guard looked for the better part of three quarters like he was going to lead his team to a win. He also looked like he might break the Hoopfest record of 46 points (held by another Jackson native, NBA star Monta Ellis).
Simply unguardable for long stretches, Newman had his patented pull-up jumper working to perfection. As Orangeville rotated defenders on him and ran two and three defenders at him, he kept scoring from deep, in the mid-range and at the rim. He split defenders, made passes to open teammates and competed on both ends of the floor. Clearly gassed heading into the fourth quarter, Newman appeared to be suffering stomach cramps late and was guzzling water -- and even mustard -- at every chance just to keep himself in the game. He didn't quite get the scoring record and his team fell a little short, but Newman certainly demanded respect and left the crowd one of the event's all-time great efforts.
Bragg delivers down the stretch
The No. 14 player in the class of 2015, 6-foot-9 power forward
Carlton Bragg
of Cleveland (Ohio) Villa Angela St. Joseph, didn't disappoint in a win over Radnor (Pa.) Archbishop Carroll a as he scored 25 points and grabbed 13 rebounds with
Bill Self
of
Kansas
,
John Groce
of
Illinois
and an assistant from
Kentucky
on hand to watch.
The night wasn't without some ups and downs, though. For a few stretches, Bragg gravitated to the perimeter and settled for jumpers too easily. However, when things got tight late and he had to make plays, Bragg scored seven straight points late in the fourth quarter and made his only three of the game on a designed play to help shut the door.
"What I've really been working on since the summer is my leadership, so I had to step up," Bragg said. "I think I played pretty well, but I think I could have crashed the boards more and gotten my teammates a bit more involved."
So far, Bragg has only used one of his official visits (to Kansas), and he also stopped by Kentucky unofficially in October and checked out
UCLA
while in Los Angeles for Adidas Nations back in August. He has no timetable just yet, but said that he would like to try and see each of Illinois, Kansas, Kentucky and UCLA before making his final decision sometime in the spring.
Narain making a name
In an afternoon game, La Porte (Ind.) La Lumiere pounced on Nashville (Tenn.) Christ Presbyterian Academy early and often while running away to a 77-48 win. A big part of their success had to do with the play of junior power forward
Nolan Narain
.
Currently ranked No. 145 in the class of 2016, Narain looked very much like a prospect capable of making a nice move up the rankings. A thin four man, he really runs the floor, battles more on the glass than you might expect and he has good touch and overall feel for the game. He finished his day with 17 points and 11 rebounds and was part of a relentless interior attack.
"We really wanted to come out and run and get a jump on them," Narain said. "We wanted to hit them first before they had a chance to hit us."
A native of Canada playing his first year in the U.S., Narain has started to attract plenty of attention. Gonzaga, New Mexico, Illinois,
Miami
,
Vanderbilt
,
Kansas State
,
Notre Dame
,
Oregon
,
San Diego State
and
Missouri
are among the many schools to dangle early offers and Narain said that he is stating to pay more attention to the recruiting process.
Most of all, Narain is glad to be producing and feel fully adjusted to playing at La Lumiere.
"I feel like I'm adjusted 100 percent now," Narain said. "I'm really fitting in with the players and the coaches. It was hard to get adjusted at first being away from home and not working as hard at home as I do here, but I've adjusted now and I'm really enjoying the process."










Click
Here
to view this Link.