Muhammad takes over top spot in Rivals150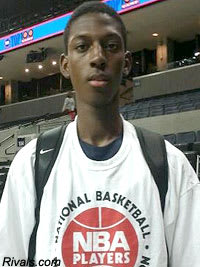 Given his productive performances in every setting and consistent improvement, it was impossible to deny the 6-foot-6 wing.
"Shabazz Muhammad has certainly passed through the gauntlet of scrutiny," said Rivals.com's national basketball analyst Jerry Meyer. "Over time he has answered all the questions about his game and continues to improve. There might be some prospects that could end up better than Muhammad, but the odds don't seem to be in favor of that happening. The smart move at this point is to make Muhammad the top prospect in the Rivals150."
"No matter the venue or the event, Bennett is consistently one of the top players," said Meyer of Bennett's jump from No. 22 all the way up to No. 7. "He has a special mentality to go along with a physical and skilled game."
"House is loaded with talent and upside," said Meyer. "It will be fun to see how far his game progresses."
"Dekker really impressed at the NBPA Top 100 Camp," said Meyer. "He is a shot maker with playmaking ability. He is a savvy player who competes."
"It is amazing how Price has resurrected his stock," said Meyer. "Instead of trying to be a point guard, he has found his niche as a power scorer on the wing."
"White doesn't just look the part of an athletic wing," said Meyer of the improving wing. "He makes shots, finishes on the break and can defend."
"No point guard is moving up the charts faster than Artis," said Meyer. "He can do a lot of positive things at the point of attack."
[rl]