Morris hoping to separate himself this summer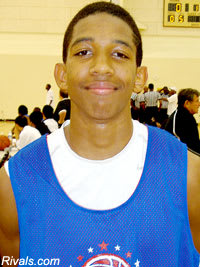 California point guard
Darius Morris
is doing his best to separate himself from the rest of pack in the class of 2009. The 6-foot-3 guard from Windward High School in Los Angeles tried to do just that at last weekend's Pangos All-American camp.
Morris, four-star prospect and a top 10 nationally ranked point guard, said he hopes to show his value this summer on the AAU circuit and in the camp setting.
"This month I've been putting countless hours in the gym and I'm looking forward to having the opportunity to show everybody what I've been improving on and getting better at," Morris said.
"For me as a player, I know I can get better at getting more players involved and playing like I'm under attack. I want to keep people on their toes and get my teammates better. By the end of August, I want to become one of the elite point guards in my class. I think I can do that. I need to keep doing what I'm doing. I'm working on my balance and my footwork and make sure my shot is always on top. You can never have a good enough shot. My speed and athleticism is something that I'm trying to keep sharp, too."
His skill set in the backcourt has attracted a number of high-level programs. Morris said Michigan (offer), Kentucky, Stanford, Washington, Washington State (offer), Texas, Southern Cal (offer) and Oregon State (offer) are high on his list.
He said he has noticed a handful of schools more than others lately.
"I would say Michigan and Kentucky are probably showing me the most love. Coach [John] Beilein is really on me. Ever since he saw me last summer, he's been on me," Morris said. "Coach [Tony] Bennett, too, at Washington State. He's one of the first coaches to give me a scholarship offer and that's why they will always stay up there. Kentucky is coming on strong as of late and so is Stanford."
Morris said the official visits in the fall will play a big part in his overall decision.
"With my list, I have a wide variety of schools so the visits are going to be important to see what kind of climate, what kind of weather, what kind of school I want to go and better myself as a player and as a person and just get better," he said.