More offers for Jones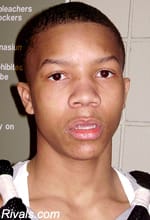 Carl Jones
continues to make buckets and lead the Ohio Basketball Club. The 5-foot-11, 155-pound point guard from Garfield Heights (Ohio) High School is also picking up offers.
According to his high school coach Sonny Johnson, George Mason, Iowa and Xavier are the latest schools to offer Jones since watching him play during the evaluation period.
Several coaches have visits scheduled for Garfield Heights the next couple days. Penn State head coach Ed DeChellis will be on campus Tuesday and is likely to extend an offer. Iowa head coach Todd Lickliter and an assistant coach from Purdue will checkout Jones on Wednesday.
Coach Johnson also mentioned that strong interest is coming from Texas Tech and Missouri and that Kentucky call on Jones Monday following his play in the King James Classic.
A slippery and skilled operator with the basketball, Jones averaged over 24 points per game during his junior high school season.