Monday at the Hoophall Classic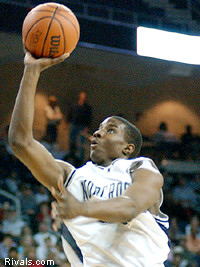 Lawal was the enforcer at the rim, blocking 5 shots and dunking almost all of his field goals. He does a great job of sealing his man on the block, and as long as he can turn to his left shoulder, points are almost guaranteed. Learning to turn to his right shoulder and developing poise against the double team are the next steps in his development. But the one thing you can never fault is Lawal's effort on the court.
DeMercy was the x-factor for Norcross with his efficient shooting and physical rebounding. Florida State got a good one and he is only going to get better.
Aminu didn't have his strongest game, but he still demonstrated the skills that make him the best prospect on the court. Expect all the big boys to make a run at this promising talent.
Neysmith had some tough misses from the field, but that didn't slowdown his contributions to the win with his ball handling. He took turns running the point with Mohammad and had a lot to do with Lawal doing chin ups on the rim.
Taariq Mohammad 8 points on 4-6 shooting, 0-2 from three, 2 rebounds, 1 steal, 6 assists, 2 turnovers in 30 minutes
Mohammad impressed with the way he controlled the flow of the game and made his share of assist passes as well. He beat his man at will with his right to left crossover.
Playing the shooting guard position for Mount Vernon, Coburn forced the action throughout the game with mixed results. But his aggressive competitiveness was integral to Mount Vernon's second half comeback despite the 18 misses.
It was tough to get a gauge on Jones' ability since early foul trouble sapped away a lot of his aggressiveness. Perhaps a tweener at the forward position, Jones still is a high-major prospect even if he is an undersized power forward.
Wright is a sophomore to keep an eye on. A physical small forward, he made a big mark on the game with his slashing to the basket and rebounding.
Robinson stuck with what he does best, which is get out on the break and run, shoot the three and pick his times to post up. The result was an efficient, team leading performance. Not a nifty ball handler and creator off the dribble, Robinson is a finisher whose athletic style is a perfect fit for Memphis.
Struggling with foul trouble throughout the game, Fisher went back and forth between either making ingenious plays with the ball or forcing tough shots and passes. Extremely talented, Fisher seems to have a hard time finding a more stable middle ground between brilliant and out of control.
It's hard to get a great gauge on Strickland's game, since he plays such a secondary role for St. Patrick. But he made critical plays in that role for St. Patrick, never forced anything and looks the part of a budding elite prospect. Still developing physically, Strickland is loaded with upside.
We have always said that Stanback's best ball is ahead of him. That is still true, but it is also in the process of happening. The thin, long small forward is beginning to fill out and the added strength is paying off. He is stronger with the ball and finishing plays that in the past he might not have been strong enough to finish. Along with Stanback's improving ability to finish, he also does a little bit of everything else on the court. Look for Stanback to be an integral part of UCLA's future success.
St. Anthony found Rosario in the corner against Bellaire's 1-3-1 zone, and Rosario made them pay.
Besides playing a more than solid game offensively at the point guard position, Fontan also played tough defense on Lucas. The bulk of Lucas' points came in transition as Fontan did an outstanding job keeping Lucas in front of him for the most part in the half court set.
A player who adapts his playing style according to the abilities of the players around him, Lucas takes on much more of a scoring role with his high school team. His points came off threes in transition, pull up jumpers and his patented runner.
Villanova (Jay Wright), UMass (Travis Ford), Kentucky, Memphis, Florida, Indiana, Connecticut, Syracuse, St. John's, Pittsburgh, Wake Forest