Mitchell making a name for himself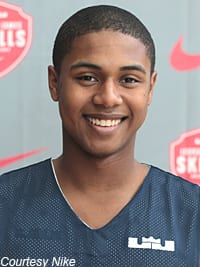 Mitchell said some of the college coaches gave him a heads up that they were coming to watch him.
"It was good, and I knew coming into this that during my whole high school career, I knew about this tournament and playing in front of big crowds," Mitchell said. "I talked to [UNC assistant] Coach [C.B.] McGrath, [Wake Forest assistant] Coach [Jeff] Battle and Coach Roy [Williams of UNC], and they all said they were coming."
When Mitchell plays with the Chris Paul All-Stars, he's more likely to aim for double-digit assist totals than gaudy scoring numbers.
"CP3, if they need me to score, I'll attack more and be aggressive, but with this team, [it's scoring] all the time," Mitchell said. "CP3 has a lot of guys that can get hot and same with this team [at Cuthbertson]. I just have to be a little more aggressive with this team."
Cuthbertson coach Mike Helms is appreciative of the work ethic and leadership Mitchell has displayed.
"Shelton is the hardest working kid I've ever coached," Helms said. "The kid is back in the gym. He's texting me, 'How can I get back in the gym the next day?' He wants to get in there and get better in all facets of his game, and he has. He has continued to improve and knows there are areas he still needs to improve.
"He is a kid, I have no question he will reach his ceiling. He is going to be the best player he can be before it is all said and done."
Rivals.com ranks the lanky 6-foot-3 point guard No. 60 in the country in the class of 2014. The Nike Elite 100, which took place in St. Louis last June, helped boost his stock nationally
"That was huge," Mitchell said. "Playing then, I wasn't as known as I am now. Being able to go against guys that were ahead of me, and basically on the same path as me, and competing against them was huge."
Mitchell grew up in Vancouver, Washington, and Portland, Ore., before settling in the Charlotte area for middle school. He transferred to brand-new Cuthbertson High his ninth grade year and helped them finish second in the NCHSAA 2A playoffs. Cuthbertson fell to Kinston 58-55 in the title game, despite 22 points from Mitchell.
Cuthbertson and Kinston were able to renew their rivalry in the losers bracket at the Holiday Invitational. Mitchell and senior wing Isiah Cureton sparked a second half comeback to pull out a 50-47 win over Kinston back on Dec. 28. Mitchell had 19 points in the big win and looks like he has improved since last March.
"I've gotten a little stronger, though he [Helms] might not believe that," Mitchell said. "I'm more mentally tough. Even when things aren't going my way, I still keep my head in the game. Last year, I think I got down on myself at times. This year, I just keep playing."

[rl]