Michigan lands four-star C Papa Kante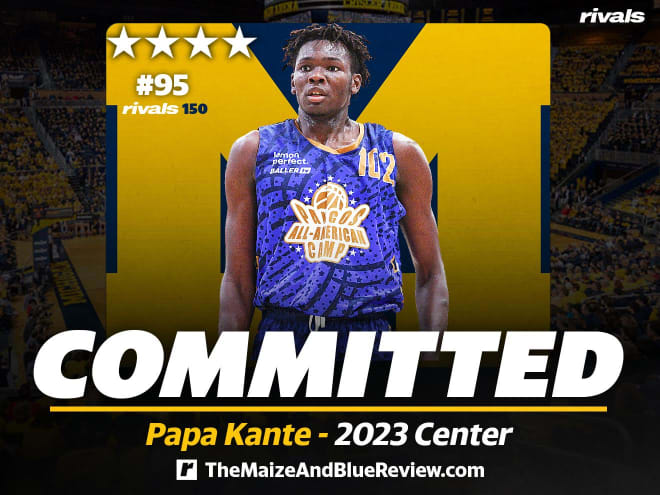 Michigan landed its first class-of-2023 commitment on Thursday, when four-star center Papa Kante announced his decision to sign with the Wolverines. The South Kent (Conn.) High School star chose the Wolverines over finalists Memphis, Pittsburgh, Maryland and Rutgers. Below, Rivals.com has a look at what UM is getting as well as what it means for the bigger picture.
WHAT MICHIGAN IS GETTING
Kante comes equipped with a 6-foot-10 frame and a wingspan that easily exceeds that. His calling card is how well versed he is in using that length as both a shot-blocker and a rebounder, allowing him to impact games even when he's not scoring at a massive clip. He isn't an offensive liability by any stretch, as he boasts reliable hands and a nice touch around the rim, And while Kante isn't a consistent three-point shooter, he's comfortable enough to put one up if left open on the outside. He's well-versed in using his frame to create space under the glass and is a reliable finisher when working with his back to the basket. He'll become more of a weapon as he gets more comfortable facing up, putting the ball on the court and shooting from the mid-range. For now, however, his frame and raw ability make him an intriguing long-term prospect with the chance to be great down the road if he continues to develop from a skill standpoint. Kante has the measurables and agility to play important minutes upon his arrival at Michigan, but he'll need to be molded as a scorer before he reaches his ceiling.
WHAT IT MEANS FOR THE WOLVERINES
Michigan has had a slow start to the 2023 cycle and seems unlikely to sign a massive class by design. That said, there are worse ways to get started than by landing the No. 95 player in the country. Kante will be utilized in a similar fashion to former UM star Moussa Diabate, who was selected in the second round of this year's draft. Juwan Howard and company would love to add five-star point guard Isaiah Collier to this class, but UM seems to have an uphill flight to wrestle him away from USC, which seems to lead the race to land his letter of intent.
IN HIS WORDS
ON WHY HE CHOSE MICHIGAN
"The first thing was my relationship with Coach [Juwan] Howard. He made me a priority from day one and really took the time to get to know me as a person and all that. The second thing is it's like a family there. I feel really comfortable when I go there and like the players and coaches."
ON JUWAN HOWARD AS A RECRUITER
"He's been a guy that gets to know you as a person. He's easy to talk to and all that. When he calls it's not just about basketball. He's just a really good guy."
ON HOW HE WILL FIT IN WITH MICHIGAN SYSTEM
"Coach Howard told me he wants me to come in there and just be who I am. Get there and compete and develop my game. He tells me to work on my game and work on everything, but he likes my defense and how I block shots and do all of it on defense."