{{ timeAgo('2020-10-01 10:23:31 -0500') }}
football
Edit
Miami joins A&M, Michigan in thick of race for Eric Dailey Jr.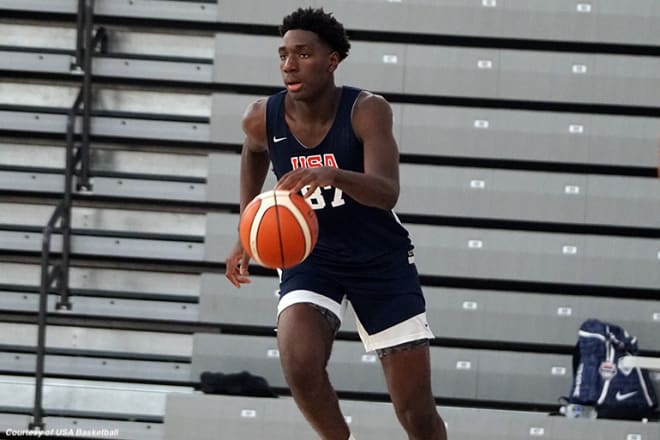 A Florida native, Eric Dailey Jr. has long been in contact with the in-state schools. His recruitment has taken on a national feel in recent months, however, as Texas A&M, Michigan and others have become mainstays in his process. Below, the Rivals150 forward discusses where things stand and which programs are making him a priority.
ON SCHOOLS STANDING OUT
"The main schools that have prioritized me right now are Iowa State, Miami, Michigan and Texas A&M."
ON MIAMI
"Man, that's a great school. It's also kinda like home for me, even though I'm from Bradenton. I really just want to go to a school that cares about me, and I feel like Miami cares about me."
ON MICHIGAN
"I like Michigan. Having [son of Michigan head coach Juwan Howard] Jett [Howard] on my team helps that. It helps me be familiar with Michigan and comfortable. That's a good connection to have. Also, they have a pro coaching them. He's been where I'm trying to go."
ON TEXAS A&M
"The coach recruiting me there, [Vince Walden], actually coached at IMG. He coached the first national team we ever had. That's cool to know and he can relate to me. I like having that connection."
ON OTHER SCHOOLS INVOLVED
"I have some interest from South Carolina and Kentucky, so we'll see what happens with them."
ON A DECISION TIMETABLE
"I'm still getting more offers, so I don't know. It'll probably be senior year when I'm ready. Other than that, I'm just going to see what happens."
RIVALS REACTION: Texas A&M and Michigan are mainstays when it comes to the top of Dailey's list. Miami and Iowa State are the new kids on the block. The Hurricanes have suddenly inserted themselves into the thick of this race, be it at an early juncture. Still, the smart money remains on the Aggies and Wolverines if things stay as they are. Dailey's recruitment could undergo a major shift as new offers arrive. It's too early to make much of a guess here.