Meyers Mailbag: Why not Kansas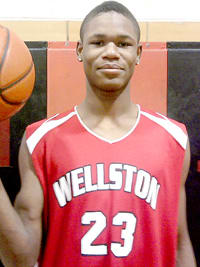 Previous mailbags
And is
Roy Williams
wasting his time recruiting California prospects?
These questions and more are addressed by National Recruiting Analyst Jerry Meyer in this week's mailbag.
Who's watching?
What is up with Kansas basketball recruiting? How can top high school players watch the balance of KU and not want to play there?
- Andre from Baton Rouge
First of all, I'm convinced that the top high school players don't watch much college basketball. They are busy with practices, games and homework along with their social lives. I remember when I was a high school coach and teacher, I hardly ever saw any college basketball.
I'm also convinced prospects don't watch much college basketball because they are all convinced that every school recruiting them runs an up-tempo style that will give them the freedom to play their game. If they actually watched these teams play, they would realize the opposite is the truth for most of the teams out there.
So I don't think there are that many prospects watching Kansas play unless they come to a game on an unofficial visit. Secondly, I think that the balanced attack of Kansas' offense is as much of a hindrance as an aid in the recruitment of top prospects.
Winning like Kansas does certainly is a positive, but most top prospects would rather go to a school where they believe they can dominate the ball and average over 20 points per game than be part of a balanced attack that keeps the ball moving.
Now if I were a post player, I would love the Kansas high/low system. The offense is oriented around the post players, and post players have historically thrived at Kansas.
But regardless, the most valid point here is that very few prospects are watching and aware anyway.
Good to go?
Kemba Walker looked like a top-5 pick at the beginning of the season, but defenses have found how to stop him and though he's still great, his unreal production has tailed off. Due to this, what do you think is the likelihood that Walker will come back to UConn next year to develop his game?
- Jeffery from Oakland
I don't see any upside to Walker coming back for another year. His play has tailed off some from the beginning of the season, but he is still projected as a first-round pick and even as high as No. 7 in one respected mock draft.
Financially, it makes sense to go as soon as you know you can get a guaranteed contract, and Walker is in that position.
Basketball wise, it is likely that Walker is having the best year that he is going to have as a college player.
Certainly, Walker could come back next year and have an even better year. From my vantage point, however, the risk outweighs the reward.
Worth the risk
With all the talent in Duke's 2011 class and what is starting to look like another great class for 2012 is Coach K conceding to the fact that he will have multiple one-and-done players?
- Sam from Springfield
The only recruit Coach K would have to assume is a one and done is
Austin Rivers
. The 2011 and 2012 recruiting classes are great classes but the likelihood of any of the present recruits other than Rivers being one and done is small. There of course is the possibility that Duke might add a one-and-done talent to its 2012 class.
A better phrase for Duke's situation is that Coach K is accepting that he will likely have a one and done in each of his recruiting classes. And I don't think he will have much of a problem accepting that situation.
It takes NBA caliber players to win a National Championship. When that is your goal, losing players after one year is a strong possibility. Having one or two one-and-done recruits per class sounds like a formula for success that most coaches would gladly accept.
Sticking with Ben
What do you make of Ben McLemore's struggles, on and off the court, over the past year? You've been arguably his biggest supporter. Do you think he'll end up working hard enough on his overall skill set to warrant his currently lofty ranking? Will the recent Oak Hill dismissal even slightly concern either the Kansas or Missouri coaching staffs?
- Patrick from Arlington
For whatever reason, things didn't work out for McLemore on and off the court at Oak Hill. His play seemed to have regressed from the summer, and he is no longer at Oak Hill after being dismissed from school.
Exiting the summer we felt that McLemore was a five-star prospect based largely on his potential. His game was far from refined, but the athleticism and the broad skill set is there for him to be a NBA player.
Unfortunately, McLemore didn't take a step forward in his development as a player this year, so we will have to reevaluate our assessment of him.
Regardless of transferring schools or where we or anyone else ranks him, Kansas and Missouri are not going to let up on their recruitment of McLemore. Both programs would love to have the opportunity to develop him both on and off the court and have devoted a lot of time and effort recruiting him. In a sense, they are both pot committed and have been aware of his tenuous academic situation from day one.
California curse?
Jerry can you please tell me why Roy Williams even bothers to recruit players from California? Going all the way back to Scott Williams under Dean Smith, I cannot remember any that were worth having. Scott was average. Same with Deon Thompson. The rest were useless like the Wears, Drew, Quentin Thomas and Alex Stephenson. What gives?
- Frank from Salem
A number of readers have asked this question and there does seem to be a trend there. You're a little too critical of the North Carolina players from California, but they certainly haven't panned out as expected as Tar Heels.
Coach Williams recruited California during his success at Kansas and has continued to look west as the North Carolina coach. I wouldn't be surprised, though, if he has asked himself the same question as the one you asked.
Time will tell what his answer to this question is.
[rl]