Meyers Mailbag: Laceys leader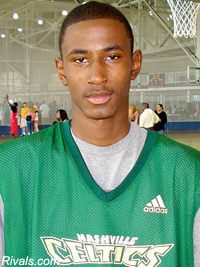 Is Mississippi one of the top states for basketball talent?
These questions and more are addressed by National Recruiting Analyst Jerry Meyer in this week's mailbag.
Trevor's top two?
- Zack from Huntsville
I don't see him going too far away from home, and the struggles of the Auburn program are likely a deterrent. Lacey recently had a great visit to Kentucky, and he has been close to the Alabama program.
First and foremost for Lacey is qualifying academically, or he won't be able to play for any of the schools in his top five next year.
Mississippi talent
- George from Hattiesburg
How about some love right now? I agree that Mississippi is a hotbed of talent. In fact, just the other day I was in a discussion with some Rivals.com co-workers, and we were talking about how Mississippi is loaded with talent in basketball and other sports as well.
In looking at the top 100 of the Rivals150 for the class of 2011, six prospects from Mississippi are in the top 100. That is a tremendous ratio per capita for Mississippi.
Breaking down Daniels
- John from Bronxville
At 6 feet 8 Daniels has a well-rounded skill set and is a terrific outside shooter. His versatility at his length makes him good. His ability to spot up and stretch the defense with his outside shooting makes him great. Daniels is a smart player who typically makes good decisions on the dribble, but as he moves up to higher levels of play, it will be his ability to make shots that will separate him from his fellow combo forwards.
As far as weaknesses are concerned, Daniels needs to improve his physical strength. Also, he is a good athlete, but he is not a great athlete.
As for his position, Daniels is a true combo forward in my estimation. His primary position in college will likely be as a face-up four man, but he is fully capable of playing the three as well.
I don't see him as a one-and-done player, but I do see him as a player who will have the opportunity to leave prior to his senior year.
Hoyas have a chance?
- Richard from Florence
If any school outside the state of Missouri has a shot at Porter, it would be Georgetown. The Hoyas are the one out-of-state school that hasn't virtually conceded Porter to Missouri.
Bump for Boatright?
- Mike from New Haven
A Connecticut commitment, Boatright has been on a spectacular roll down the stretch of this season. He is lightning quick and slippery with the ball. Off the dribble he is an elite playmaker as a scorer and passer. His high school team needs points out of him, but at Connecticut he will impress as a passer as well.
Boatright's lack of size is a concern, but I expect him to at least crack the top 40 in the final Rivals150.
[rl]