Meyers Mailbag: Jones moving up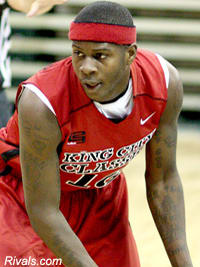 National Recruiting Analyst Jerry Meyer answers these questions and more in this week's mailbag.
Jump for Jones?
- Will from Portland
Jones definitely has had a tremendous senior season. He has continued to prove what he proved over the summer - that he is one the most versatile forwards in the 2010 class.
The 6-foot-8 lefty is a high-level ball handler and passer, scores in a variety of ways, defends multiple positions and is improving as an outside shooter. In short, he does have the look of a top 10 prospect.
Nonetheless, I wouldn't be surprised if Jones does crack the top 10 when we produce the final Rivals150 after the postseason all-star games.
Breaking down Gbinije
- Drew from Bronxville
What stands out about Gbinije's game is his versatility and intelligence on the court. He has a well-rounded skill set at a fairly high level and actually has the capability of contributing at the one through the four positions.
At Duke his primary positions will be the two and the three. With his intelligence and the complete nature of his skill set, Gbinije should be able to contribute early on in his college career.
Right now, Gbinije is ranked in the top 30 in the 2011 class and is right on the verge of five-star status. With the reshuffling that will take place this spring and summer in 2011 rankings, Gbinije will have plenty of opportunities to raise his stock.
He does possess pro potential, but getting a handicap on the odds of him playing in the NBA will be a lot easier after watching him perform on the travel circuit this year.
Bowen's impact
- Marcus from Winston-Salem
The best case scenario for Bowen is to earn back up minutes at both the two and the three as a freshman.
Falling into place
- Justin from Tucson
There is nothing certain at this point with these three five-star guards. The scenario you draw up, however, is a strong possibility.
The primary feeling on the basketball recruiting front is that Kentucky is the leader for Knight and Kansas the leader for Selby. The word on Lamb is that he is still quite uncertain of where he wants to play his college ball.
Selby is set to announce his decision April 17 at the Jordan Brand All-Star game. Knight and Lamb have not set dates, but I wouldn't be surprised if Knight announces at the McDonald's All-American Game at the end of this month, if not before then.
Potent potential pair
- Franklin from Memphis
It is going to be difficult for any freshman duo to match the impact that Wall and Cousins have had as freshmen. They have been the two best freshmen in the country with Wall winning SEC Player of the Year and Cousins winning SEC Freshman of the Year.
Selby (ranked No. 4) and Harris (ranked No. 5) are certainly great talents and if playing together would be a formidable duo. There would be marked differences, although, between them and Wall and Cousins. Selby is a tremendous scorer and talent as a combo guard but whether or not he can lead a team at the point like Wall has remains to be seen. I'm not saying Selby can't do that, and I have great respect for his game. It is just a question as to whether he is best suited to run a team at point or be primarily a scoring guard playing along side a more traditional point guard.
And what makes Cousins so special is his enormous size and ability to dominate the paint to go along with his highly evolved skill set. Harris is tremendously skilled, but he is not a physically dominating player like Cousins is.
The Kentucky duo is made up of a uniquely talented point guard and a dominant low post player. A Selby/Harris duo would be a top-notch scoring combo guard and a multi-skilled four man who prefers to face up.
If Tennessee were to pull off the upset and land Selby, it would push its class ahead of North Carolina to No. 3, but I don't see it overcoming Ohio State and Memphis.
[rl]