Meyers Mailbag: Change at top of Rivals150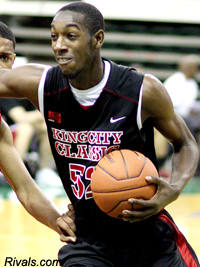 Previous mailbags
Is there a prospect making a push for the No. 1 spot in the Rivals150?
What does Duke recruiting look like going forward after winning a national championship?
What are some of the different angles concerning the massive turnover on the Kentucky roster?
These questions and more are addressed by National Recruiting Analyst Jerry Meyer in this week's mailbag.
New No. 1?
Did Brandon Knight's performance at the McDonald's practices help or hurt his ranking? Did anyone look the part of the #1 overall recruit?
- Scotto from Nashville
Frankly, Knight's performance in the practices was mediocre at best. Granted, he had the best defender in the class
Cory Joseph
guarding him the majority of the time, but Knight rarely got to the rim and never turned the corner in pick and roll situations.
It wasn't that he was bad, but he just didn't make that many plays. He did knock down some 3-pointers, but unfortunately that shot is becoming his go-to move.
As far as a No. 1 player in the class goes, there just isn't a standout No. 1 like there was last year with John Wall.
The player who is weighing heavily on my mind as the potential No. 1 player in this class is
Josh Selby
. I don't think there is a play he can't make as a combo guard. He has high-level athleticism, a lot of wiggle off the dribble, makes tough shots and he has the swagger of a No. 1 prospect.
Riding high
- Chris from Durham
I've been flooded with "how does a national championship affect Duke's recruiting" questions since Monday night. It is impossible to quantify the affect of a national championship on recruiting, but it is certainly safe to say that it can only help.
I think in Duke's case, its run through the tournament and the publicity that it has produced has altered the perception of a lot of basketball fans. Duke doesn't play soft basketball. Duke plays a dynamic style. Duke has as many former players playing in the NBA than any other program. The current Duke players have improved during their time at Duke. And you can win a national championship at Duke.
The hypothetical class outlined in the question above is a definite possibility. Duke has to be considered the leader for Rivers. Miller's recruitment likely comes down to an epic battle between Duke and Kentucky, with the likes of Baylor, Illinois and Oregon playing the role of sleepers. Adams has publicly proclaimed Duke as his leader. It would be no surprise to see Plumlee follow in the footsteps of his two older brothers.
As formidable as this class would be, it wouldn't necessarily be a lock for No. 1. Louisville, for one, already has a four-man class committed with two five-stars and a couple four-star prospects.
Leaving early
Can Kentucky continue to just take one-and-done players every year? Is there any specific NCAA rule limiting the Wildcats in the number of scholarships it can give out on an annual basis (not the 13 scholarship rule)?
- Megan from Nashville
Besides the impact of Duke's national championship on its recruiting, the other hot topic of the week was the five Kentucky players (four freshmen) declaring for the NBA draft. There was a bit of controversy about Patrick Patterson and whether he has made his decision, but I expect him to leave UK and submit his name for the draft.
Fortunately for Kentucky's John Calipari and a lot of other coaches in the country, the "five-and-eight rule" is no longer in effect in college basketball. It used to be that a program could only sign a maximum of five recruits in one year and a maximum of eight recruits in consecutive years.
Now, barring any penalties or punishments, a program has 13 scholarships per year at its disposal. These scholarships are renewed on a yearly basis.
So, yes, Kentucky can continue to primarily recruit one-and-done players. The question is whether Calipari can keep up the recruiting pace from year to year.
Back to the Pack?
If NC State makes a huge splash and signs C.J. Leslie, will the combination of a dynamic backcourt in Ryan Harrow and Lorenzo Brown put the Wolfpack among the top seven recruiting classes?
- Ian from Raleigh
Rarely do you see a recruit go back to a school that he has decommitted from, but at the McDonald's All-American Game last week there was a strong sentiment that Leslie will do just that.
Leslie, who committed to North Carolina State during his sophomore year and lives in Raleigh, N.C., has stayed in close contact with the North Carolina State program this year.
Luke Cothron
, who plays the same position as Leslie, recently decommitted from North Carolina State. This decommitment stirred up speculation that Cothron felt Leslie would end up at North Carolina State and he did not want to compete with him for playing time. Also, the frontcourt at North Carolina State is wide open for Leslie to be the go-to man.
NC State is one of four schools that Leslie is considering. He took an official visit to Kentucky during the season and is also looking at Connecticut and Florida. He has yet to visit either of these schools.
If the Wolfpack were to land Leslie, it would firmly place their recruiting class in the top seven in the country - possibly even the top five.
Calipari's plan
- Terry from Sugar Hill
I don't think the reason you proposed is why Calipari would support Bledsoe entering the draft. For one, I just can't see Knight and Selby choosing the same school. There seems to be way more ego and not enough camaraderie between the two prospects for them to choose the same school.
But more importantly, any player who projects as a first-round pick will have Calipari's blessing to enter the draft. It just makes too much sense business-wise to get the guaranteed first-round salary as soon as possible.
It is also the foundation of Calipari's recruiting. His message, in a nutshell, is that he will prepare you for the NBA quicker than any other program in the country. In order to back up that sales pitch, Calipari needs heavy turnover year after year.
It is the curse that comes with the blessing. The elite talent that Calipari puts in a Kentucky uniform will only wear that uniform for one season, and Kentucky fans will have to get used to that.
[rl]