Meyers Mailbag: Breaking down Carson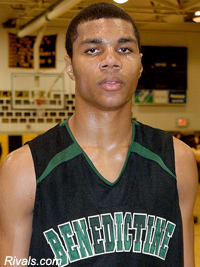 And how is Pittsburgh doing with its 2012 recruiting class?
These questions and more are addressed by National Recruiting Analyst Jerry Meyer in this week's mailbag.
Carson comparisons
- Terry from Memphis
Carson and Jackson do have similar games. Both are lead guards who can distribute but specialize in scoring. They are on the small side but make up for it with their athleticism and instincts.
On the defensive side they are both tenacious on the ball defenders with excellent lateral quickness. They also have a knack for picking up steals.
UConn leads for Drummond
- Lenny from Glastonbury
What's next for Duke?
- Justin from Boston
The Thomas debate
- John from Memphis
Thomas is a great player, and I definitely wouldn't look at his No. 15 ranking as low. He is an outstanding defender, a strong finisher at the rim and a great overall player in the open court.
Pitt looks good for 2012
How is the 2012 recruiting class for Pitt shaping up? Does Jamie Dixon have a shot at any of the Rivals top 25?
- Pittmir from Indianapolis
[rl]