Meyers Mailbag: Another top class for UK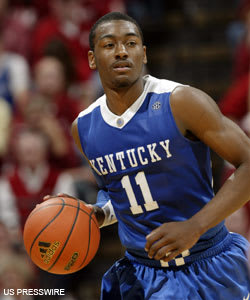 Could Kentucky put together a 2010 recruiting class that would surpass Memphis for the No. 1 ranking?
Could there be a shakeup at the top of the Rivals150 for the class of 2010?
National Recruiting Analyst Jerry Meyer addresses these questions and more in this week's mailbag.
Class under construction
- Drew from Ft. Wright
Memphis certainly has a loaded recruiting class with seven recruits - three of which are in the top 12. A hypothetical Kentucky class, however, of Knight, Jones, Leslie, Lamb and Poole would take over the No. 1 spot in the rankings.
This hypothetical five-man recruiting class would give Kentucky a legitimate starting lineup in the class. Knight would be the point guard, Lamb at the off guard, Poole as the small forward and Jones and Leslie as the two big men. All five prospects are ranked in the top 30, with Knight No. 1, Jones No. 13, Leslie No. 14, Lamb No. 21 and Poole No. 27.
Now, handicapping the likelihood of Kentucky landing this class is another story. But Coach Calipari - who has already signed Poole - does have a realistic chance of landing each of the other prospects.
New No. 1?
Franklin from Memphis
There just isn't that much separation between the top five prospects in the 2010 class. Knight is a prolific scorer, playmaker and defender who plays the game's marquee position. Selby, however, is right there with Knight in pretty much every measurable for a point guard.
Similar to the 2008 class, the postseason all-star games for the 2010 class should be ultra-competitive affairs with multiple prospects jockeying for the No. 1 ranking.
Impact freshmen?
- Teddy from Westchester
Knight and Irving are both ultra-competitive and physical lead guards. They handle the ball at a high level and generally can get the ball to wherever they want on the court. They also pass the ball well, but both are a little more oriented as scorers than distributors.
As scorers, I would give Knight the edge as a long distance shooter. I'd call it a wash when it comes to scoring in the midrange and getting the ball to the basket. As penetrators, Knight is a little more powerful and Irving perhaps a little more crafty.
Athletically, Knight is more explosive and a little longer. This factors into their defensive play more than any other area. Knight is an elite defender who moves his feet extremely well and can hold his position on the court. Irving has great instincts as an off-the-ball defender and creates havoc with his quick, strong hands. But he does not move his feet nearly as well as Knight.
More for Memphis?
Is Memphis done for recruiting in 2010?
- Matt from Memphis
Mayo's recruitment is getting a late start because he did not play on the travel circuit. Memphis will have plenty of competition from the likes of Tennessee, Oklahoma, West Virginia, Mississippi State and Southern Miss.
Early entries
- Bryan from Loveland
I wouldn't be surprised. I would be utterly shocked if Kentucky only lost Patterson to the NBA.
The heavy losses Kentucky will likely suffer after this season mean Calipari will be under a great deal of pressure to sign a top-flight class this spring.
[rl]