Meyers mailbag: All-star impact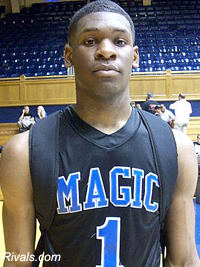 Previous mailbags
Will this year's McDonald's game be primarily an inside-oriented game or an outside-oriented game?
And how does
Villanova
's 2012 recruiting class stack up against the rest of the country?
These questions and more are addressed by National Recruiting Analyst Jerry Meyer in this week's mailbag.
Wiltjer will impress
Three of
Kentucky
's recruits are considered elite prospects, but what can we expect from
Kyle Wiltjer
in the McDonald's game and does he belong?
- John from Cincinnati
Wiltjer does belong. Outside
Anthony Davis
, Wiltjer will be the most skilled big man in the game.
Wiltjer has more post moves with fakes, step throughs and jump hooks than any prospect out there. He is a tremendous outside shooter. And he also passes well.
The downside for Wiltjer is that he isn't the most explosive player, but his high basketball IQ and his high skill level will counter what he lacks in athleticism.
So plan on watching Wiltjer knock down a couple 3-pointers, have some nice scoring moves in the post, make some strong passes and pull down a few rebounds.
Nova rolling in 2012
Hi Jerry, where does Villanova's recruiting class of 2012 rank with the addition of
Daniel Ochefu
?
- Art from Hightstown
Villanova has put together a terrific 2012 recruiting class so far. Ochefu, a 6-foot-10 center, is the jewel of the class as the No. 16 prospect in the Rivals150. He has the tools you look for in a high-level big man. He is long, physical, athletic and skilled.
Joining him in the class are a couple four-star perimeter players ranked in the top 50.
Savon Goodman
is a well-built, athletic forward who loves to attack the basket. He is a dangerous slasher and rebounder, and has the potential to be a high-level defender. The third recruit is combo guard
Ryan Arcidiacono
, who became a national name with his outstanding play at last year's Tournament of Champions. He is a crafty ballhandler with a nice shooting stroke.
Villanova's 2012 recruiting class doesn't match Indiana's recruiting class, but that is the only recruiting class that it doesn't match. At this stage of the game, Villanova has the second-best 2012 recruiting class in the country.
On guard
All-star games tend to be guard-dominated events. Do you expect this to be the case with this year's McDonald's All-American Game?
- Timothy from El Paso
I do expect that to be the case in this game. The post players who are known for their scoring ability, such as
Anthony Davis
,
Kyle Wiltjer
,
Cody Zeller
and
Chane Behanan
, can certainly score at the basket. They are also, however, quite skilled away from the basket, so I'd expect them to come outside to get the ball to find opportunities to score.
On top of that, the best scorers in the game are the guards and the wings. Plan on a lot of shots to go up from the outside with the post players chasing down rebounds in order to get their touches.
Thomas will make impact
How big of an impact can
Adonis Thomas
have on the Tigers next year with all the underclassmen returning on such a talented team? Can he push them to the next level?
- Jonathan from Memphis
I expect Thomas to have a big impact for Memphis next year. And not just because he is a talented five-star prospect, but also because of his competitive toughness.
Memphis does have a roster full of talented players returning next year, but Thomas will provide Memphis with a physical wing prospect who can score inside and outside, and be a defensive stopper. Memphis had talented perimeter scorers with athleticism this year, but it lacked a physical wing.
Thomas' serious minded and competitive approach to the game will also provide a big boost for Memphis. His work ethic of consistently working out and practicing hard will have a positive effect on the program.
Being a Memphis product on a team full of Memphis players, he will have that team competing for its city.
Eyes on practice
Can you really gain any scouting insight by watching an all-star game? Isn't it just a glorified pick-up game?
- Jason from Indianapolis
You can get a gauge on athleticism and playmaking ability, but you do have to be careful about jumping to conclusions based on an all-star game. Typically there isn't a high level of resistance on defense and there isn't a lot of structure offensively. So it is easy for a quality player to get lost in the shuffle and a flashy one-on-one player to look better than he might really be.
All of the players playing in the notable all-star games are prospects we have watched over time, so we have a context within which we are watching them at these events. These games give us a chance to mark the progress of prospects in certain areas as they compete against the other top prospects in the country.
With the McDonald's game in particular, we get more out of watching the practices than the game itself. It is always interesting to note how different prospects approach practice and how competitive they are. For three days in a closed situation like these practices, we have a great opportunity to rethink the top of our Rivals150.
[rl]