Meyer Mailbag: Better Kentucky class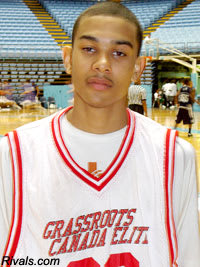 Previous mailbags
Which No. 1-ranked recruiting class is better, Kentucky's 2009 class or the 2010 class?
Which point guard prospect has a feel for the game similar to Rajon Rondo?
What about Illinois commitment
Mycheal Henry
makes him a five-star prospect?
These questions and more are addressed by National Recruiting Analyst Jerry Meyer in this week's mailbag.
Kentucky's better class?
With the recent recruitment of Terrence Jones, how do you compare the 2009 Kentucky No. 1 recruiting class to the 2010 No. 1 recruiting class?
- Allen from Jacksonville
It is pretty amazing how closely the two classes resemble each other. Both classes have four five-star prospects and two four-star prospects. Both classes are well-balanced, with all the positions covered.
By the ranking numbers, the two classes are pretty much a wash. The difference between the two, however, is the star power at the top of the 2009 class. John Wall and DeMarcus Cousins were the No. 1- and No. 2-ranked prospects in the Rivals150, and both were named All-Americans as freshmen.
Kentucky's top two recruits in the 2010 class -
Enes Kanter
and
Brandon Knight
- are ranked No. 3 and No. 6 in the Rivals150. They will be major impact players, but it is difficult to envision them having the impact that Wall and Cousins had.
For this reason, I'd give the nod to the 2009 class as the better recruiting class.
A Rajon debate
I remember you pointing out how amazing Rajon Rondo was in high school with his passing and overall court feel at the point guard position. I feel like a lot of point guards in the high school point guard rankings are primarily scorers and do not possess these attributes. Seeing Rondo's success in the NBA playoffs has made me wonder, who do you feel most resembles his court feel and passing sense most in any class right now?
- Ryan from Cedar Rapids
I will be the last person to discount the importance of a point guard, or any position for that matter, to be able to score. A player who can't score is simply a liability and better have exceptional skills in other areas.
Rondo does have these exceptional skills. He has used them throughout his career to compensate for not being a scorer. Now, Rondo is scoring - which is why his overall game is blossoming. Being a threat to score is opening up the rest of the game for him and making it easier for him to excel in other areas.
Texas signee
Cory Joseph
is the point guard prospect who impresses me the most with his feel for the game as a point guard. Joseph does a lot of things that go unnoticed by most observers. He has a great feel for distributing the ball to teammates with timing, precision and touch. He also has a feel for chemistry in regards to keeping teammates happy by appropriately sharing the ball.
In short, he makes everyone on his team better by maximizing their opportunities to play to their strengths. There are not that many point guards who can recognize that a teammate could potentially score and then make it a reality by breaking down the defense or by quickly getting the ball to that teammate in a position where he can successfully finish the play.
On top of all this, Joseph can score and has a great feel for when he should hunt for his points and when he should distribute the ball.
Aid instead of LOI?
What was the reason for Brandon Knight to sign a financial aid agreement and not a National Letter of Intent?
- Jim from Louisville
Prepare for more and more top prospects to go the route of only signing a financial aid agreement and not signing a letter of intent. Knight chose this path, as did
Terrence Jones
.
Why would a prospect want to restrict himself by signing a letter of intent if he has the option to just sign scholarship papers? If a school values a recruit enough, it will be more than happy to just have that prospect sign scholarship papers.
It is all about leverage, and the high-level prospects have all the leverage.
The primary reason a prospect would not want to be bound by a letter of intent is the possibility of the head coach leaving for another job. With so much talk about coach John Calipari potentially leaving UK for the NBA, it only makes sense for Knight and Jones to steer clear of a letter of intent.
Oh, Henry
What are your thoughts on Illinois' recent commitment of Mycheal Henry?
- Jeff from Chicago
At 6 feet 6, Henry has everything you look for in a big wing. He is long, strong and athletic. He shoots the ball well from deep, has a midrange game and gets to the rim. He also has a back-to-the-basket scoring game. His feel for the game is strong, and he is an above-average ballhandler and passer for his position. Defensively, he is solid and versatile.
I think very highly of Henry as a prospect. He has upside and will be college-ready as a freshman. I wouldn't be surprised if he moves even higher up the rankings this summer.
From overlooked to NBA?
Are any of the players likely to be drafted this year [that were] three-star recruits (or less) coming out of high school? With so many people scouting, how is it possible for talented players to be underestimated?
- George from Naples
Gordon Hayward is a prime example of an under-the-radar high school prospect who will likely be drafted.
In our case, Rivals.com "missed" on Hayward because we never saw him play. That is usually why prospects fly under the radar. There are certain tournaments and events that are primary scouting opportunities, and if prospects don't play in these, the chances increase that they will go unnoticed.
Certainly scouts make mistakes, and also some prospects are late bloomers. Hassan Whiteside is a great example of a prospect who was ranked by scouts, but as a late bloomer will go down as being significantly under-ranked.
[rl]