McDs practice: Monday standouts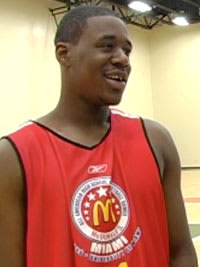 MIAMI
- Both the East and West squads spent a healthy portion of Monday's practice playing five-on-five. Over the two days of practice, future Texas shooting guard
Avery Bradley
has been one of the top performers.
West breakdown
There is such grace and fluidity to Bradley's game. Then all of the sudden, he will stun his opponent with an explosive drive to the rim or tenacious on-the-ball defense. Expected to replace A.J. Abrams in the Texas starting line up next year, Bradley might not have the consistency from deep range than Abrams, but he is a much better athlete, slasher to the basket and defender.
As good as Bradley has been, Florida State bound shooting guard
Michael Snaer
has been every bit as good. Not quite the athlete that Bradley is, Snaer is still a quality athlete with a bigger build than Bradley. Snaer has a lot of power in his game to go along with a smooth shooting touch and feel for scoring the basketball. Both extremely competitive players, Snaer and Bradley have battled against each other in the practices.
Once again
Keith Gallon
had a strong day.
John Henson
fared much better against him on Monday than he did Sunday, using his length and quick hands to counter Tiny's power. But when
Renardo Sidney
matched up on Gallon, the Oklahoma signee had a hey day scoring in transition as Sidney seemed content to stand on the offensive wing.
A natural talent, Sidney will have to ramp up his motor at USC if he plans to be a one-and-done player next year. He has yet to battle in the post, rebound or run the court in two days of practice. Maybe he is just saving it for the game.
Along with his improved defensive play, Henson shot the ball quite well from the perimeter on Monday.
Gallon isn't the only talented future Sooner in the McDonald's Game.
Tommy Mason-Griffin
had a stretch in practice when he was on fire, creating space off the dribble at will and draining jumpers. Making his scoring flurry even more impressive was that he was being guarded by arguably the best perimeter defender in the class
Avery Bradley
.
The other point guard for the West
Abdul Gaddy
always impresses with the controlled nature of his game. A crafty operator with the basketball, Gaddy has also shot the ball well.
East breakdown
Taylor, who is headed to Pittsburgh next year, ran the floor and finished at the rim with authority. Oriakhi, played with his typical high energy and demonstrated some slick passing, setting up Taylor for some scores.
Taylor was also the beneficiary of
Maalik Wayns
passing in transition. The future Villanova point guard had several high level assist passes on the move.
Extra thoughts
The head trainer for the McDonald's Game informed Rivals.com that
Wally Judge
suffered a bruised spinal cord and will not be able to participate in the dunk contest or the game on Wednesday.
Lance Stephenson
might be "Born Ready" but he wasn't ready for his flight to Miami on Sunday. Stephenson is expected to participate in the three-point shooting contest on Monday, but he has missed the first two practices of the event. His press conference is scheduled to begin at 11:45 AM Eastern on Tuesday. He will announce his commitment to either Kansas, Maryland or St. John's.
In 2009 recruiting news, Alabama's new coach Anthony Grant visited
Eric Bledsoe
on Monday. Cincinnati will be in Birmingham on Tuesday to meet with Bledsoe.
Duke has strengthened its position with No. 1 ranked prospect
John Wall
after a productive meeting with the prospect on Sunday. Duke might also benefit from what seems to be the imminent departure of Coach Calipari from Memphis to Kentucky.
[rl]